Earlier this year I shared with you all how I stopped using soap and started to wash my face with natural oils. My skin looks so radiant and feels so soft because of it.
I have since been on the hunt for more DIY beauty treatments that use more natural ingredients and are very easy, not to mention frugal, to create. I had been searching for different facial scrubs as a way to exfoliate my skin.
In January I was treated to a professional facial (it was heavenly!) and the lady told me that it would probably do my skin some good to find a gentle exfoliate to use once or twice a week. The problem was that so many of the commercial scrubs contained a whole lot of ingredients that I just didn't want to put on my face, especially after using the oil cleansing method for so long.
So I hit up Pinterest, because… well some people use Google and I use Pinterest to search for things online! 🙂  Many of the facial scrubs that I found did use natural ingredients but they had several different ingredients and steps to make. For me, the simpler the better so I kept searching.
One day I was reading an article (for the life I me I couldn't find it to source it here) that talked about using everyday kitchen scraps for home cleaning and beauty treatments. It listed several items from egg shells to lemon peels but one struck out to me as something of a possibility… coffee grounds.
When you look for an exfoliate you want something that is gentle and for the grain size to not be too big.
Coffee grounds fit that bill. Mixed with a little bit of oil oil, the coffee grounds turn into a gentle yet deep cleaning exfoliate that works wonders on your whole body, not just your face.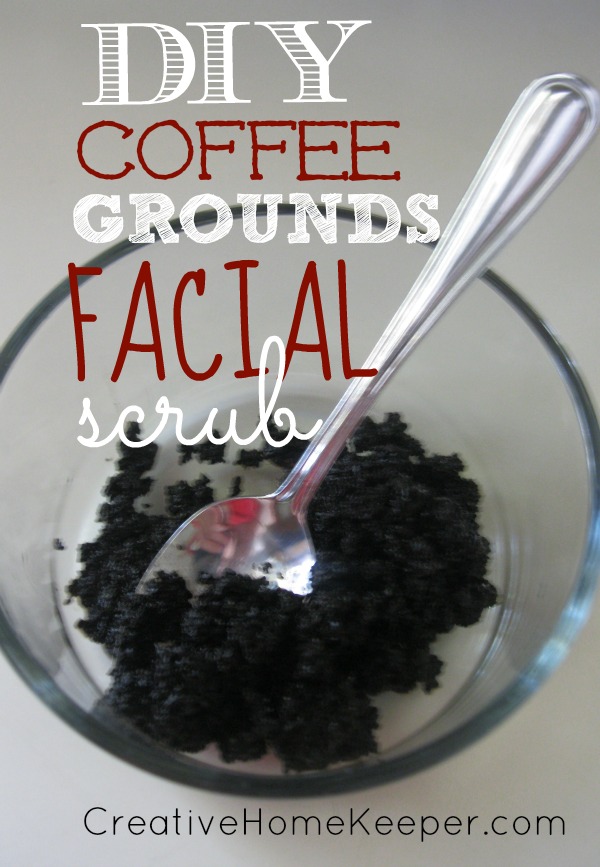 DIY Coffee Grounds Facial Scrub Ingredients
1 Tbsp ground coffee
2 Tbsp olive oil (or carrier oil of your choice)
Small container with a lid to store
Method
Scoop the coffee grounds into the small container and pour the oil over. Stir to mix.
Scoop a small amount into the palm of your hand and gently apply it to your skin using circular motions to scrub it it. You can just apply it to your face or if you are in the shower, you can use the scrub on your whole body.
Rinse with warm water and pat your skin dry with a dry cloth. Apply your favorite moisturizer if you wish but just with the Oil Cleansing Method, you might notice your skin already feels moisturized after apply the oil to your skin.
I personally like to use this scrub in the shower so that way I can exfoliate my whole body at one time and be able to easily rinse all the coffee grounds off.
Dry Grounds or Wet?
It really just depends.
If you are a coffee drinker you could easily use up the grounds in your coffee machine instead of just throwing them away. Store them in the container with a lid in the refrigerator for a day to remove the excess moisture before mixing with the oil.
You can also use dry grounds too! Just scoop out of the bag and mix with the oil.
Storage and Use
I wouldn't recommend making a big batch because I'm not sure how well it would store. I think it would store just fine at room temperature but I wouldn't store it in the refrigerator since oils solidify in cold temperatures.
Since I only exfoliate my skin once a week, I just make up one small batch and use it up in one shower.
Another note, I would also only exfoliate your skin once, maybe twice a week. You don't want to damage your skin but you do want to remove dead skin cells and polish your skin every once in a while.
So be gentle while scrubbing your face. Use your finger tips to gently scrub in the coffee grounds and oil in a circular motion. That allows your skin to get rid of the bad stuff and to recirculate the good stuff.
Benefits of Using Coffee Grounds
One of the reasons I like to use natural ingredients when creating some of my own beauty products is because your skin ingests anything and everything that you put on it. In my journey to switch out conventional products to safer natural products, I've been discovering that anything I put on my body should also be safe enough to eat too.
I'm not there 100% on all my beauty products yet, I'm focusing on one change at a time. But I will say that since overhauling my facial routine my skin has never looked more healthy.
Coffee grounds are an excellent choice to use as a natural exfoliate because not only are they natural and safe to eat (although I prefer to drink my coffee NOT eat the grounds!) but coffee also contains antioxidants which can help repair damaged skin and help to recirculate. Plus the caffeine naturally found in coffee can help constrict blood vessels making your skin appear tighter and youthful, which is why so many cellulite reducing creams claim to have caffeine in them.
Frugal, Green and Natural
If you already make coffee at home you already have 50% of the ingredients. Plus I'm going to make the assumption that just about everyone has a bottle of olive oil in their pantry for cooking. Most likely you already have all the ingredients so this wouldn't cost you any extra money which is always a plus in my book.
Even if you buy a bag of coffee just for this exfoliate, the coffee grounds will keep in your freezer and one small bag of coffee grounds (which costs anywhere around $10) will last you forever! Making this DIY coffee grounds scrub not only green and natural but also incredibly frugal too!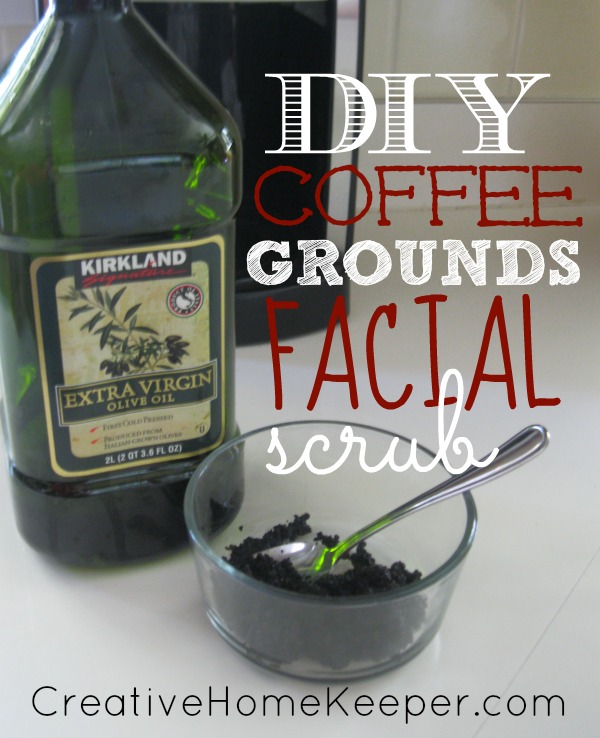 Have you ever used coffee grounds to exfoliate your skin? What other DIY homemade ingredients do you like to use as part of your beauty routine?