Feeling overwhelmed by all the projects and to-do lists that need to be done around the house and don't know where to start? Complete a house walk through by making a one master to-do list to help prioritize and focus on what really needs to be done and plan for those future "fun" projects.
---
This year let's create a haven at home with the 52-week home project. Small, managable weekly tasks and challenges to create a space that promotes peace, inspires creativity, nurtures your family and is not only more organized but also runs with more purpose and intention.
To catch up on all the previous projects, head here. 
Last Week's Project
Feeling overwhelmed by all the projects and to-do lists that need to be done around the house and don't know where to start? Complete a house walk through by making a one master to-do list to help prioritize and focus on what really needs to be done and plan for those future "fun" projects.
Sometimes it feels like there are so many projects around the house, so many tasks that need to be done, so many closets or areas of clutter to be sorted through… just so many things!
I am a victim of being paralyzed by being overwhelmed. When the to-do list is long, I often don't even know where to start!
Can you relate?
I recently read a book (I'll be sharing more specific details and thoughts about it soon!) that outlined the idea of giving your house a room-by-room walk through. Not to clean or pick up clutter but to write down anything and everything that needs to be done.
Instead of walking through your house with a big box, trash bag or cleanings supplies, all you are going to need is a notebook and a pen. Instead of gathering items to move to their appropriate places or to get rid off, we are going to make a master to-do list of tasks that need to be completed, projects to finish, and areas to organize and sort through.
Instead of allowing all of those unfinished projects or tasks to remain cluttered in our brain as clutter, we are going to write them down. So gather a notebook and a pen, and start walking through your house room by room!
Project #5: The House Walk Through
Survey each room. Start at the doorway, move around the perimeter, look up at the ceiling, on the walls, under furniture, in the middles of the room and in all closets and cabinets.
Write down any to-list items that need to be completed like changing out lightbulbs, removing a stain from the carpet, washing the bedding, fixing a broken blind, repaint a chipped wall area, etc.
Write down any areas that need to be sorted through, purged and organized like room closets, cabinet drawers, overflowing toy box, junk drawers, bookshelves, etc.
Think through areas that hinder your family's routines. Does a bathroom vanity need to be better organized for morning tooth brushing to get everyone out of the door easier? Can your children easily find their daily belongings? Is it impossible to pull out basic cooking supplies from your overstuffed pantry or refrigerator?
Think through the physical room arrangement. Is the furniture placed in well thought areas for the most space? Do you need to move furniture around, out of a room or into a different room? Do you like how the room looks and feels?
Ask yourself what changes need to be made. This could be as simple as adding updated new family photos. Maybe the room layout needs to be changed. Think through any decorating updates or changes you wish to make but do be aware, while it's fine and fun to think through what you would like to do to a room, don't forget to take into account your time and budget. It does absolutely no good to start making plans to repaint or buy new furniture, or plan a kitchen remodel, if it is not in your budget or you haven't discussed the plains with your spouse.
Take all of your notes and write out one master to-do list organized by rooms and in priority of importance, what projects you will work on or complete first.
My Progress and Results
Walking through each room with open eyes to really look at the space was eye opening. Instead of looking for all the projects I wanted to tackle, I really saw the home we live in.
I saw rooms filled with love, memories and life. I saw how my children have not only invaded our home but also our hearts as well. Our house has become a home over the last few years. Sometimes that's easy to miss when we are constantly thinking about all the projects and tasks that need to get done around here.
With that in mind, I did create a list of things to be done but instead of thinking about fun design projects, I was really able to hone in on all the little things. For example:
dust and polish the ceiling fans
repair the small paint chip in the dining room
clean the wall behind the changing table
reorganize the pantry and baking cabinet for better use
move the lamp from the attic to the office for better lighting
move all the bath linens to one closet
fix the hinge on the sliding closet door in my son's new bedroom
replace the old yellow light switch and outlet plates to white ones in my daughter's new room
move the children's games to the main hall closet for easy access
go through the kid's keepsake pile to file and keep the true keepsakes
update the photo wall in the living room with current photos of the kids
There are plenty more but for time's sake, I didn't include everything on my list.
What I did is use my small Emily Ley Notes notebook that I fit inside my Simplified Planner. At the top of each new page I write the room name so each room got it's own space to write a complete list.
Then I walked through each room and really looked around the space for anything that needed to be done (those were written on the top of the list), things that I would like to do and then finally dream projects that I would love to do someday in the room.
Once I had all my lists written out, I went through the items that really needed to get done first and made a plan with my husband of how to complete all those tasks over the next few weeks and months. Some of the easier projects like replacing light bulbs, removing a scuff mark with a Magic Eraser or moving a lamp from one room to another, I was easily able to knock off this week.
Some projects that require a little more time and planning, we have scheduled them in to complete this spring through weekends. Creating a master to-do and project list has really helped my husband and I focus on where to spend our time and money on in our home this year.
How did you benefit from walking through your home?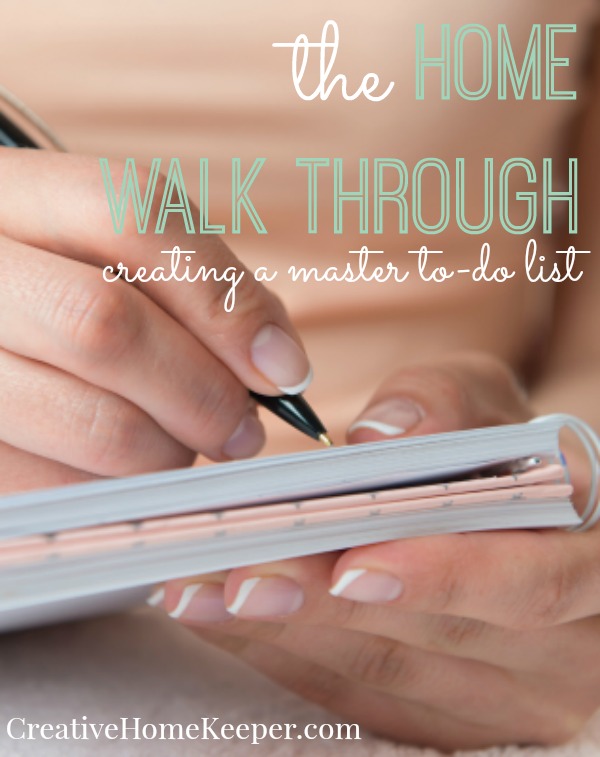 A New Project for a New Week
Each week I'll share a new challenge to help us tackle one small area of our homes.
Some weeks it might be a deep cleaning task, some weeks it might be a decluttering task, some weeks it might be a challenge to help you create a space you love, and some weeks it might be a combination of a few different challenges.
The goal for the 52-Week Home Project is to have a home that is not only more organized but also runs with more purpose and intention and just feels more peaceful and calm.
The Next Project
A few weeks ago we tackled the main hall closet. For some of you, that was the only spare closet in your home but for others, it was just one of many. This week let's tackle one of those "other" closets… the linen closet.
In my house the linen closet is where we house all the bath towels, extra sheets, snow rugs, and few extra odds and ends. When I open the closet I don't see nicely folded stacked towels instead I see a mountain of towels, sheets and rags stuffed causing them hard to retrieve. Can you relate?
Why do we shove our towels and sheets in shelves without taking care of them? Why do we have more towels than we really need? This week let's sort through, pair down and really learn how to fold and store your linens.
Project #6: The Linen Closet
Pick one closet to sort through these week. Preferably the one that houses all of your towels, rags, bedding or any other important linens.
Empty the closet and create piles. For example all of your bath towels in one pile, hand towels in another, washcloths, sheets, etc. in their respective piles.
Determine how many towels you need for each family member. Since I do laundry every day and we don't really have overnight guests, with the exception of a grandparent spending the night occasionally, I try to keep it at one bath towel per person. I have more hand towels and washcloths since we go through those more frequently.
Examine the quality of your towels. Are your towels stained, torn, or the hems fraying? Do they need to be replaced? Make a list of any new towels you need to purchase so you can add that to your budget and throw out the towels that are past their prime.
Sort through your bedding. I like to have two sets of sheet per bed so that way when I pull off the sheets to wash, I have a new set to put back on. This is especially useful for kids who still are potty training and when the stomach bug hits in the middle of the night.
Inspect the quality of your sheets. Again, are they torn, stained or fraying? Do you need to purchase new sheets? Add those to your budget so you can be on the lookout for linen sales coming up. Throw out any extra sheets or sheets past their prime.
Learn how to fold your linens for uniformity and to save space. I like to place my folded towels, seems in, on the closet shelves to take up the least amount of space and to just look more appealing. Taking a few minutes to fold your towels not only looks nicer but also helps maximize the amount of space you have.
Sort through the rest. What other items are stored in your linen closet? Can they be stored elsewhere? Are you using the space as effectively as possible? Anything extra that needs to be stored in your linen closet place back in and the rest, either place in your giveaway box or move to a new home in your house.
Next Sunday I'll share my progress as well as give our next challenge in the 52-Week Home Project so be sure to stay tuned.
Missed a project in the 52-Week Home Project? Head here to see the complete list of all 52 projects!
How did you do with your 52-Week Home Project this wee? Share your results in the comments below, including a link to your blog post or photo you shared on Instagram, Facebook or Twitter with the hashtags #The52WeekHomeProject