Meal Planning Through the Seasons
Meal planning through the seasons is a genius way to create a simple template of meal ideas to save you time all year long. Check out this step-by-step guide on how to create a seasonal meal plan template to last you through the entire year, plus a real-life example!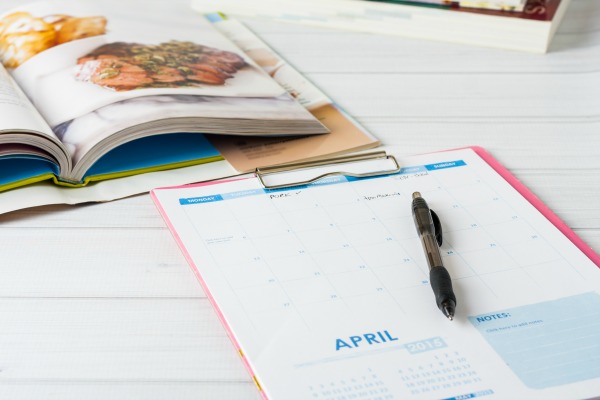 Meal planning is one thing that has saved me countless hours and a lot of money. It takes a few minutes of planning, depending on how you meal plan and can keep your grocery budget on track as you shop for only the items you need to cook with,
As I've shared before, I like to plan for the entire month at a time.
Not necessarily a detailed 7 meals for 4 weeks plan but rather a more flexible plan where I make a list of go-to meals I know our family will love and are simple for me to make.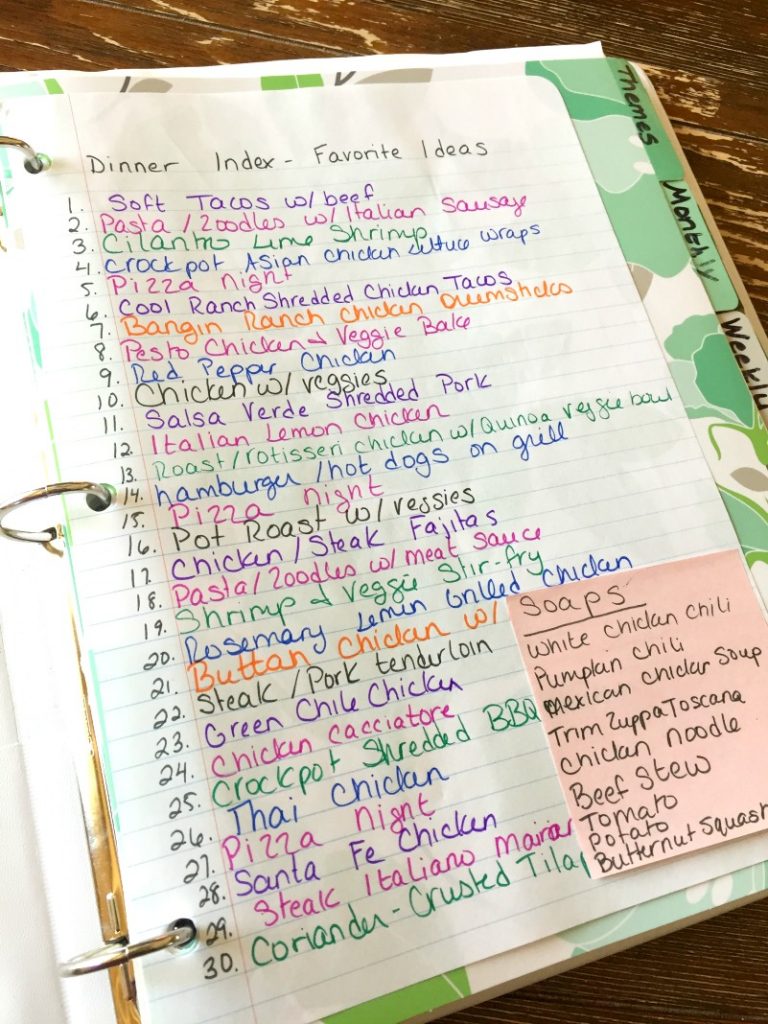 While this does take a little bit of time and effort at the start of every month, it's such a relief to know that I only have to sit down once to meal plan!
As I have been using this method for quite a while, and am familiar with the meals that my family likes to eat and are easy to prepare, I have a regular rotation of meals that I can easily swap in and out with ease.
Another tool that I use to aid in my meal planning is creating a seasonal theme to help me come up with ideas and make sure I am rotating the types of foods we eat around.
Meal planning through the seasons is a way to create a simple template of themes to build a balanced monthly meal plan.
It helps me come up with new ideas when I feel like I am in a rut and it challenges me to add variety and to even try out new recipes.
I have found it useful to create two separate themes, one for spring and summer and another for fall and winter, to help create a balanced meal plan all year long.
This makes sense because soups, chili, and more hearty meals are appropriate for the colder days in the winter, where lighter salads and vegetable-based meals do well during the hot days of summer.
Let's take a look at the different seasonal meal planning templates
Fall and Winter Dinner Themes
Creating a two-week rotation helps me to have a steady balance of types of meals (this prevents frequent repeats) and gives me a framework for what type of meals to plug in.
Here's what our current fall and winter template looks like:
Week 1:
Soup or Chili- I love warm, comforting and filling soups during the cold months. Soup and chili is a really frugal way to add a lot of vegetables while limiting the meat. Plus, I make most of my own chicken stock using leftover chicken bones.
Italian- This can by anything from spaghetti night to a pasta bake, or even a huge pot of Italian inspired soup like Zuppa Tuscana.
Fish/Seafood- We mainly only eat Shrimp or Salmon as our seafood choice but occasionally I might experiment with a new seafood recipe.
Crockpot- Anytime I can use my crockpot or Instapot for a quick meal prep on a busy night, it's a go. This fall we have an evening where soccer practice runs until 7 so I always plan for a crockpot meal that evening. And yes, crockpot meals can be any theme but has to be a quick throw-together type of meal.
New Recipe- Once every few weeks I like to break out of my meal planning rut by trying a new recipe. I have a habit of pinning tons or recipes or clipping magazine articles so I have a huge collection of yummy looking recipes to try. The key is to try a new recipe on an evening where you generally have a bit more time. I like to cook new recipes over the weekend where I'm not as frantic in trying to get a meal on the table quickly.
Asian Inspired- I personally love the flavors and combinations from recipes that are inspired from the far east.
Snacky Dinner- My kids LOVE this type of meal, and I love it too because it's pretty much an effortless, no-cook meal that I can throw together in minutes. Basically, I just load up a platter with lots of cut-up raw veggies, fruits, meat, cheese, crackers, and any other random pantry or fridge staples we have. This is our typical go-to Sunday dinner because it's nice to start the week off without having to cook a meal.
Week 2:
Pizza- Who doesn't love pizza night? We typically make our own pizza but every once in a while it's a treat (and a break for me!) to order pizza in.
Mexican- Taco Tuesday is pretty much a staple in our home but there are so many other favorite dishes we love that have those yummy spice combinations.
Soup or Chili- In the colder months, I believe you can never have too many soaps or chilis in your rotation. Plus, it's a great way to add more veggies to your diet!
BBQ- We live in the Kansas City area so BBQ is basically a way of life. From pulled pork to beef brisket, ribs or simple BBQ chicken, my family loves the smoky/spicy/sweet balance of a good BBQ flavored dish.
Crockpot- The crockpot or Instapot is a weekly staple appliance in my kitchen. The more I can use it, the better. I have a huge collection of go-to, favorite meals I can easily throw into the Crockpot each morning. And the Instapot has been a lifesaver in recent months when I forgot to use the slow cooker in the morning.
Snacky Dinner/Leftovers- Sometimes while the kids are having a snacky dinner, my husband and I will clean out the fridge of any leftovers that haven't been eaten up for lunch.
Dinner Out- Every two weeks we budget for a dinner out. Whether that be a take-out meal or even a date night, it's just a nice break.
Spring and Summer Dinner Themes
Just as with the fall and winter months, I have a quick template to help plan meals for the warmer months in spring & summer. Many of the themes below are very similar to the themes above so it's not like creating an entirely new set of meal themes.
Week 1:
Crockpot- Simple and easy crockpot recipes, which could fall into a variety of different themes
Italian- During the summer months, I love to add lots of zoodles in our pasta dishes thanks to our handy spiralizer 😉
Fish/Seafood- Fish dishes always feel lighter, especially cooked with lots of in-season vegetables.
BBQ-  The grill gets used a LOT during the summer to keep the kitchen as cool as possible
Main Dish Salad- I love to eat a lot of salads, especially in the summer when a big, heavy meal doesn't sound too appetizing. To appease my meat and potato hubby, I always add meat in the form of steak, chicken or bacon, plus lots of add-ins like cheese (we love Feta!), dried fruit, seeds, and croutons.
New Recipe- This is where I force myself to be creative and try out one of the many recipes that I have pinned or that I have clipped from a magazine or cookbook.
Snacky Dinner- During the summer, we usually spend Sunday afternoons at the pool as a family so having a snacky dinner is perfect for a tired Mama who doesn't want to cook!
Week 2:
Pizza- A year around favorite for our kids!
Meatless Monday- My husband is not particularly a fan but there are so many yummy and filling vegetables that I try to create a filling, nutritious and budget-friendly meal every once in a while. (I do try to limit this type of meal to only once a month out of respect).
Mexican– We typically try to keep it lighter during the warm summer months we simple taco bars or burrito bowls
Crockpot– Even during the summer, this a power horse in my kitchen!
Grill Out- We try and use the grill as much as possible during the summer, so hamburgers, hot dogs, or other favorite grilled meats are a crowd pleaser.
Snacky Dinner or Leftovers- Can't be any easier than cleaning out the fridge and using up what you already have for quick meals.
Dinner Out- We set up our budget to go out to eat as a family a few times a month either as a date or with the whole family.
Create Your Own Seasonal Meal Planning Template
First, take inventory of what types of meals your family typically likes to each. This is where having a go-to list is time-saving.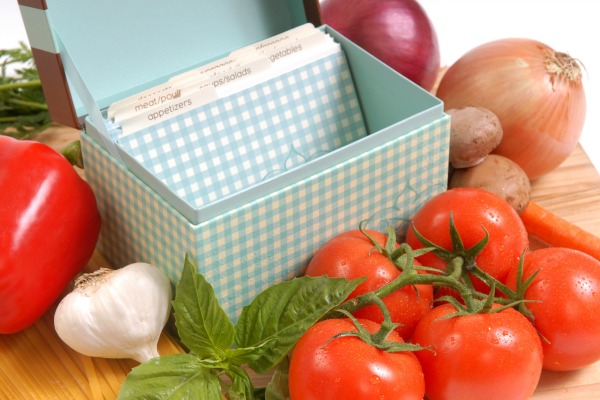 Once you have a visual idea of types of meals you make on repeat, pull out the themes.
Do you eat a lot of:
Italian
Mexican
Asian
Soups
Salads
Meat Entrees
Etc…
Note your themes and plug them into a two-week rotation.
Keep this list inside your CHK Seasonal Meal Planner, along with your favorite meals, and after a few weeks of using these two in combination, you will become a meal planning pro!
Creating seasonal meal templates combined with my list of go-to meal options makes meal planning effortless and easy!
Download a FREE Seasonal Meal Planner Template
Want to make your own seasonal meal plan?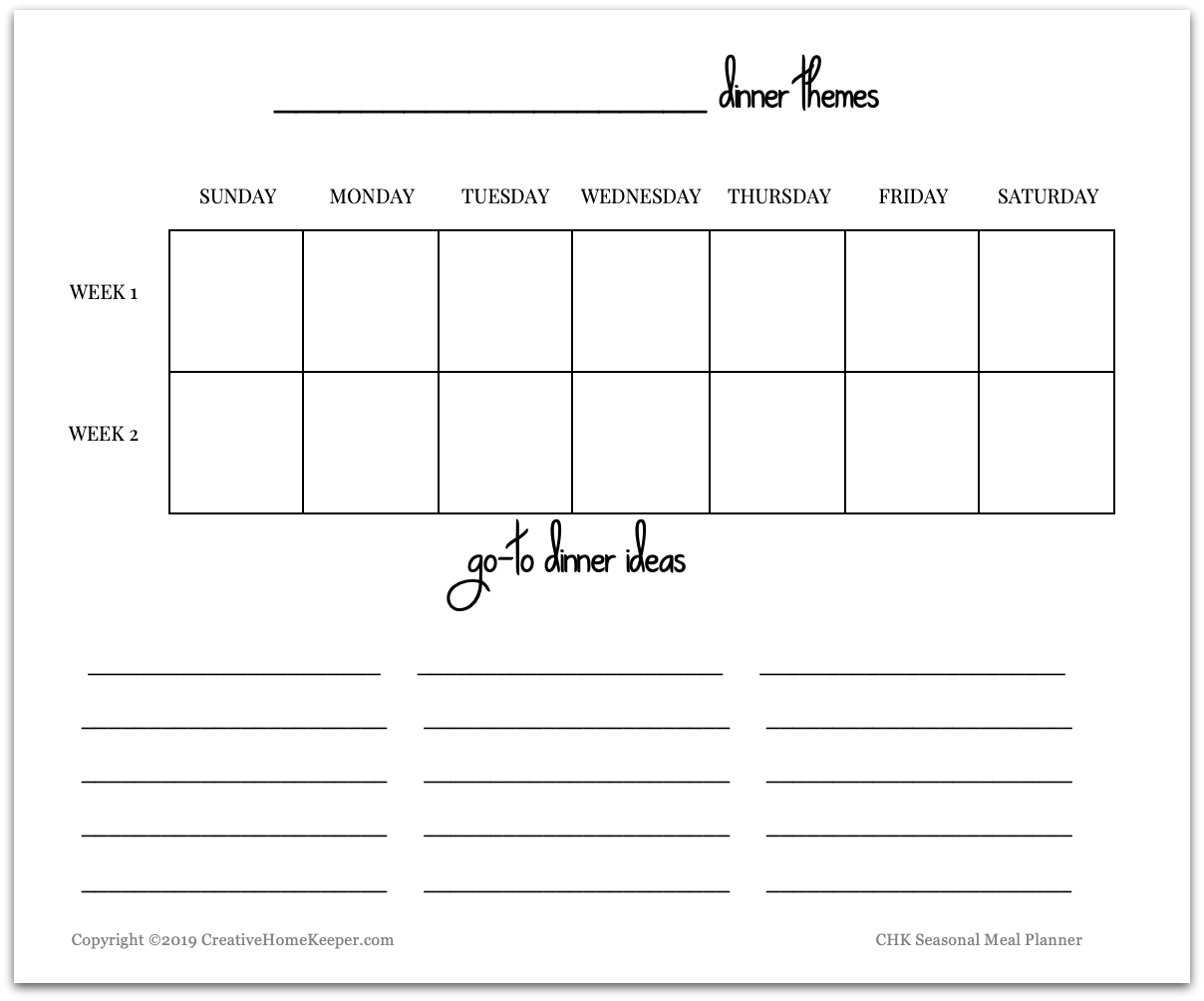 Check out this free dinner theme worksheet to set up seasonal themes based on what your family likes to eat.
Sign up below to gain access to the resource library to download this free printable as well as other great resources to manage your home, grow your faith, and prepare for seasonal living.
[convertkit form=923724]
 Do you have set seasonal themes you use in your meal planning? What themes do you use?
This post has been updated from the archives. It was originally posted 5/21/14.
---
Have you checked out the CHK Seasonal Meal Planner yet?
Does any of this ring true for you too?
Do you wish meal planning was more of a cohesive routine that allows for easy weekly planning?
Do you long to live seasonally and build in traditions to your meal plan?
Do you want to enjoy each season while taking time to plan for your family's special traditions AND plan for meals you will eat every single day?
These were questions I had been wrestling with.
I wanted a meal planning system that would help me carry my seasonal mindset over into my meal planning but there wasn't much out there.
The CHK Seasonal Meal Planner is an all-in-one meal planning system that not only helps to plan what we will eat each day but is also built around each season so we can naturally incorporate our family's traditions and special days.
It will allow you to plan your meals with purpose and intention as you think through special days, holidays, and what each season uniquely offers.
AND It will guide you, step-by-step, through planning each month allowing you to save time and money.
This unique meal planner will hold your hand and take the stress and overwhelm out of planning easy, family-favorite meals.
Plus you will naturally include seasonal elements into your monthly and weekly meal planning!
I could go on and on about all the special features and why I love it so much, but I'd rather you go and check it out for yourself HERE!