Monday I shared about my daily routines and provided you with a printable to help you create a daily routine that would work for you.
Having a daily morning, afternoon and evening routine is important to help keep things running smoothly around the home, but it's only a part of the puzzle when it comes to reviewing your routine.
The next element we are going to discuss is having a weekly plan, the chores that don't need to be done daily but weekly. Some people like to assign certain chores to certain days, for example dusting on Monday, bathrooms on Tuesday, vacuum the floors on Wednesday, etc. Others like me, have a checklist of cleaning tasks that need to be done during the week.
As I mentioned before I don't currently do well with a time based schedule which also included locking myself in to having to complete certain chores on a certain day. Back when I just had one child I had a really great routine going where I could manage that but currently that just doesn't work. Some days I don't get any of my weekly chores done but then there are other days that I get to knock several off my list.
The point is just like when you created your routine, is you have to find a system that works for you. So if you know that assigning days to clean works well for you, then my all means go that route! But before we even start assigning chores you need to evaluate what actually needs to be cleaned in your house on a weekly basis.
Depending on the size of your home or how many people live in it will determine which tasks need to be done. I only give my kitchen a good cleaning once a week where I wipe down all the appliances, mop the floors and scrub the sink. I keep it clean the rest of the week by loading the dishwasher, sweeping the floor and disinfecting the counters daily. Maybe for those of you who have a kitchen that sees a whole lot more activity, deep cleaning your kitchen maybe more of a daily task.
I like to start by creating a list of what chores and tasks need to be done in each room by doing a walk through of my home. I go into each room and write down what needs to be done on a weekly basis. Don't worry about those chores that need to be done monthly or only  a few times a year, like flipping the mattress, vacuuming under the seat cushions or dusting the ceiling fans, we'll get to those in the next part of this series.
After doing a quick walk through of my house, here is the list that I came up with. You can use this list as a starting point if you wish, adding or deleting items that are relevant to you.
Bedrooms– this includes both the master bedroom and the kid's shared room
Dust
Vacuum and mop floors (we have hardwood floors throughout the house so every other week I mop the bedroom floors)
Wash bedding
Restock diapers
Disinfect door handles and light switches
Kitchen
Sweep and mop floors
Wipe down appliances
Organize refrigerator/pantry
Scrub sink
Restock dish & hand soaps
 Menu plan & make grocery list
Disinfect door handles & light switches
Bathrooms
Scrub toilet
Disinfect counter and sink
Clean shower
Restock toilet paper & hand soap
Clean glass mirrors
Disinfect door handles & light switches
Living Spaces/Office– this contains our family room, basement playroom and our office
Sweep & mop floors
Clean glass doors
Discard broken toys & books
Disinfect remote controls, door handles & light switches
Laundry Room– we have a small laundry room off the kitchen and it works hard to keep our clothes cleaned, but can also easily become a place of clutter and dirt so I make sure to give it a good cleaning once a week. This could also be a mud or utility room if you have one of those.
Clean out dryer lent
Remove clutter
Disinfect & wipe down washer & dryer
Sweep & mop floors
Disinfect door handles & light switches
Weekly Organizational Task– a few organizational tasks that I complete every Sunday to help stay organized and manage my paper clutter.
Review calendar and plan for week
Clip, organize and sort coupons
Daily– There are a few tasks that I thought about that I do complete daily but didn't think to add them to my daily routines list so I added them here.
Change hand towels & wash clothes
Remove and/or put away clutter
Disinfect kitchen counter
Find at least 4 things to throw away or give away- (I'm taking the example from Money Saving Mom's Week to a More Organized Home Challenge to find and get rid of a few items every day to help keep the clutter and junk to a minimum)
Sweep kitchen
Empty trash & recycling
I do try and get all of my dusting done on one day and all of the vacuuming and mopping of the floors done on another day rather than just wait until I clean that specific room. It's just easier to pull out the vacuum and mop once then a few times a week.
Ready for the fun part? I created another printable that coordinates with the daily routines printable from Monday. Today's FREE printable is a weekly cleaning checklist that highlights all of the cleaning tasks I mentioned above.
I keep this in my home management binder in a clear plastic sleeve so that way I can use a dry erase maker and mark off the task when I complete it, then wipe off the sleeve at the end of the week. I also added a blank line to each room's cleaning task to add the occasional monthly or annual chore when it needs to be completed. For example when the mattresses need to be flipped I will write that on the line under the bedrooms category.
Do my weekly chores not line up with yours? Well I also created a blank weekly chores checklist that you can print off and write in the tasks that need to be done on a weekly basis. Once you write those in with pen you can place under a clear plastic sleeve like I did above with mine, that way you don't have to print off a new sheet each week.
I hope these weekly cleaning checklists will help you to get back into a better cleaning routine, they have me! And don't forget you can download a similar daily routines printable here.
Later this week I'll share how to plan for those monthly and annual chores that don't need to be done every week but do need to get done every once in a while. I'll also have another fun printable to help you remember those too!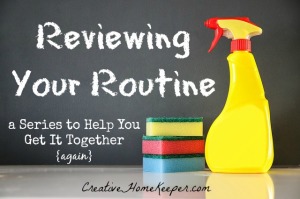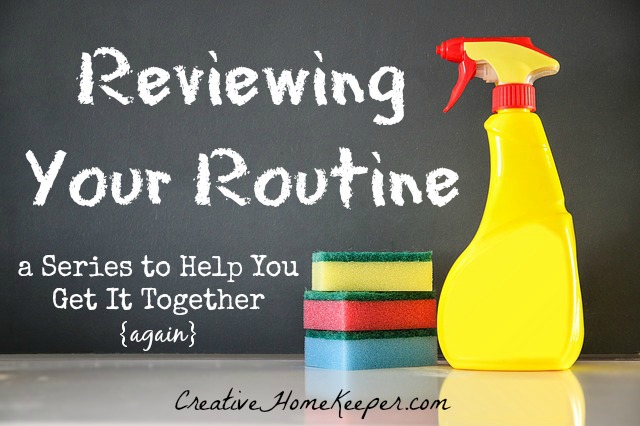 To end with a little fun, what is the one chore that you absolutely dread? For me it's the bathrooms. I always find it ironic that one room we use to clean ourselves is the dirtiest of the entire house and all those little crevices make it hard to clean. Which chore is yours?

**Affiliate links may be used. You can read my disclosure policy here. 
Does creating a Christ-Centered home feel overwhelming?
It doesn't have to be!
Join our community and get the encouragement & guidance you need to find real joy & purpose in your homemaking today! To get started, you'll also get my FREE guide: 10 Easy Ways to Create a Christ-Centered Home!
Plus, when you join the Creative Home Keeper community you will join over 5,000 other women (just like YOU) who are becoming equipped to create a Christ-centered home and are transforming their hearts towards homemaking once and for all!
*By joining the Creative Home Keeper community, you agree to our Privacy Policy.