The final stop in our cleaning checklist process is what I call annual chores – those things that you maybe only do once or twice a year (or quarterly) but are equally important. As I eluded to on Monday, if I don't have an list to keep me on top of things then chances are they won't get done.
Part of the process we went through in creating a monthly checklist was to go through our homes room by room to identify any of those big chores that don't need to get done on a weekly basis. While I was doing that I came across a few chores that didn't need to be done monthly but every so often, hence our annual cleaning checklist.
When creating an annual checklist I realized that I had two types of chores – those that needed to be done quarterly (about 4 times a year) and those that only needed to be done once or twice. So I created another handy-dandy useful printable to place in my management binder (which I am so excited to be showing you soon!)
Below is a list of chores that I came up with that are relevant to me and my home. Like always please don't feel you have to copy my list if you don't already have an annual chores list. Rather use mine as an inspiration to help get you started.
Quarterly– every 3 months
Clean all vents– dust with a rag and if they are super dirty I may even remove it to wash
Wash mattress covers
Wash blankets– these are the ones that we use in our living room occassionally
Vacuum dryer vent– not the actual tube that connects the dryer to the circulation vent (my husband does that one) but periodically I vacuum out the vent that when I remove the lint buildup.
Clean and rotate personal toiletry products– switch out toothbrushes, wash make up and hair brushes, replace contact cases, etc.
Clean inside of all windows
Closet purging and organization– I do my main purging twice a year, but I do keep on top of making sure the clothing in my wardrobe fits, isn't damaged and is organized.
Sweep and clean garage
Rotate and store seasonal decor– This also includes rotating in seasonal books for my kids
Once or Twice a Year– every 6 months
Flip mattresses
Wash shower curtain and liner– I can usually get away with washing my plastic shower liner at least one time if not twice, and my shower curtain I have washed several times and still looks great. Just be sure to read the washing instructions on your curtain, usually I wash mine in the delicate cycle on cold water (I may have melted part of my shower liner before due to a warmer cycle!) 
Clean outside of windows
Purge unnecessary items– We keep a give away pile in the attic and twice a year we make plans to either have it picked up or I take loads to our nearby donation center.
Dry clean seasonal clothing– winter coats, linen dresses, etc.
Clean and store outdoor furniture and planters
Clean basement and attic storage
Sort, organized and purge important files and documents
I also included a notes section because it always seems like some big cleaning task comes up that needs to get done but may not necessarily be something you do every year. This could also be a place where you write down any major home renovation projects that you have planned for the year.
And of course I have a blank annual checklist for you to write in the chores that work for you. You can keep this in a clear plastic page protector and use a dry erase marker to save paper.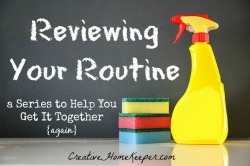 What are some annual cleaning tasks that you do that I didn't think to include on mine?
Does creating a Christ-Centered home feel overwhelming?
It doesn't have to be!
Join our community and get the encouragement & guidance you need to find real joy & purpose in your homemaking today! To get started, you'll also get my FREE guide: 10 Easy Ways to Create a Christ-Centered Home!
Plus, when you join the Creative Home Keeper community you will join over 5,000 other women (just like YOU) who are becoming equipped to create a Christ-centered home and are transforming their hearts towards homemaking once and for all!
*By joining the Creative Home Keeper community, you agree to our Privacy Policy.