7 Ways to Get Motivated to Start Cleaning
Do you struggle to get motivated to start cleaning? Do you feel so overwhelmed you don't even know where to start?
These 7 tips will help you focus and jump right on in of the daily cleaning and homemaking tasks that need to be done. You might even find you enjoy cleaning!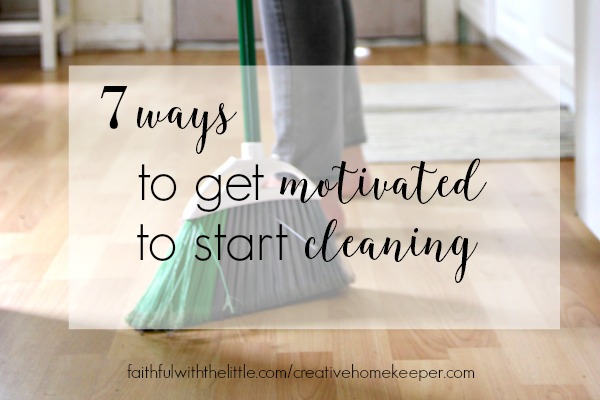 By Contributing Writer, Rebekah Harris
When my husband and I started our family I don't think I ever realized how much cleaning it would require.  Growing up I always loved to clean and organize. My mom would give me free reign to go around the house rearranging and cleaning to my heart's desire. I really thought I would grow up to be an interior designer as I played house.
When I got married and we bought our first home I was so excited to start 'playing house' for real. I couldn't wait to hang pictures, arrange furniture, go shopping, decorate, clean, organize, pick paint colors and make our house a home.
Now with 5 children running through the house, there are plenty of opportunities to do all of these things. I love caring for my family but there are some days that I would gladly take a vacation from cleaning. If you are a parent I am sure you can agree that children have a gift for making messes… no matter how many you have.
I have been faithfully trying to stay on top of the clutter and dirt so that they don't pile up, because once things pile up I start shutting down. It's really hard for me to function in clutter and chaos.
There are going to be seasons in all of our lives where busyness and life circumstances put cleaning to the back seat. But once things get back to normal we are going to have to face the repercussions of not attending to the ever-growing dust and mess.
Some days the monotony and never-ending cycle of cleaning can leave you feeling frustrated and unmotivated. Many times I think to myself, "What is the point? It's just going to get dirty again."
It might all seem futile but keeping our homes clean and in order (as much as possible) is really so important and such a gift to our husbands and children. We should take pride in keeping our home and making it a place where we want to be;  a place of comfort and rest.
It's hard to rest and enjoy our homes with our loved ones when it's dirty and unkempt.
I am finding that keeping my home has become an act of discipline not only for myself but for my children. We are learning together to do those things that must be done. If we don't all work together we won't be able to enjoy the basic things in life like clean clothes, dishes, and comfortable living space.
It might not last for long but it is so satisfying to look around at the clean house and bask in it… at least for a few moments. When I am having a hard time getting to the place of actually cleaning I have to jump start myself with these remedies.
7 Ways to Get Motivated to Start Cleaning 
1. Start Sweeping
I find that when I have been behind in housework, everything has piled up and I don't know where to start if I just start sweeping it leads to the house getting cleaner and cleaner.
If I sweep I have to pick things up, remove things from under the couch and before I know it I have made a huge difference!
2. Invite Friends Over
Nothing motivates me more to clean then inviting my friends over. Whether it's for a play date or dinner with friends and family; I clean faster than I've ever cleaned before when I know people are coming over and going to see my house.
There is no way I can keep my house clean all day long but when friends are coming over I want them to enjoy being there. No, we all don't have perfectly clean homes and we don't have to pretend that we do but I don't think there is anything wrong in taking pride in your home and making it a place that people want to come and gather and feel welcome.
3. Decorate/Start A Project
When I have a special project I am working on or decorating an area of my home it motivates me to clean that area. Whether it's putting up new pictures, rearranging furniture, or painting; I want everything to be clean around it.
4. Listen To Music Or A Podcast/Watch T.V.
I love putting Pandora on my favorite worship station and worshipping while I clean. I am able to not only fix my eyes and thoughts on the Lord but clean at the same time. The best kind of multitasking I can think of!
Most times I just want to listen to soothing/ worshipful music but sometimes it's fun to turn on some disco music to dance to or upbeat praise music that gets me and my kids dancing and jamming out to!
Another way I like to keep my mind engaged while cleaning is listening to a podcast. I really enjoy Focus on the family's daily radio program. They have great guests that touch on so many topics such as parenting, marriage, and faith. I always learn so much and forget that I am even cleaning.
After a long day of school, I really look forward to chilling out…but then there is all the laundry that needs to be done. This is where watching t.v. comes in.
I pull out all the overflowing baskets of laundry to the couch and fold them as I watch my favorite show. It makes me actually look forward to doing laundry, which you know is a complete miracle!
5. Make It A Group Effort
I admit that I do most of the cleaning in my home but there is no way that I could clean the house all the time by myself, because you know I am not the one making all the messes!
My kids are assigned daily chores but sometimes certain areas of our home look like a war zone and we need to do battle. I get everyone together and we all work to get r done!
I act as commanding officer in chief and bark out orders; giving each of the kids a specific task. It's not always easy to get my troops excited to clean but it takes such a load off my shoulders knowing that I don't have to do this alone.
6. Set A Timer
Some days it can be slow going to get my kids and me to do the job at hand, especially when we have to go somewhere at a certain time. Setting a timer is a great way to motivate you and your kids to get cleaning in an allotted amount of time.
I am always amazed at how fast we are able to clean when we know we only have a specific time frame.
7. Get Inspired By Other's Clean Homes
I know most people get depressed scrolling through beautiful/clean homes on Pinterest and Instagram but I really get inspired.
I realize most of these homes aren't clean 24/7 especially if they have kids. Most of them are staged as well. But looking at sparkling kitchens, uncluttered rooms, organized desks and bedrooms really gets me motivated to do my best to get my home up to par.
Maybe looking at dirty messy homes makes you want to clean your home. Whatever gets you motivated to get your home in order, clean and liveable…do it!
Do you struggle some days to get motivated to clean? What helps you to get motivated to clean?