I've been in a serious meal planning rut preparing and planning for the same dinners over and over again.
We are kind of getting bored with the standard roast chicken with vegetables, spaghetti with meat sauce, BBQ chicken with sweet potato fries and salad, soft tacos and homemade pizza — all of which are delicious and family favorites but I'm guessing we would enjoy them more if I wasn't repeating them week after week.
The warmer months of summer always do this to me.
I'm hot and tired, I don't want to fix a heavy meal and I don't want to heat up the kitchen anymore to cook something. I'm void of inspiration and meal planning becomes an afterthought.
There have been too many nights in recent weeks where due to my lack of planning, motivation or energy, we have ordered take-out or eaten frozen chicken nuggets with boxed macaroni and cheese more times than I care to admit (although both my husband and kids love mac and cheese from a box… go figure!)
Our health has been compromised and we are left without eating balanced meals that are nutritious and satisfying. I knew something had to change!
This past weekend over the long holiday weekend, I spent some time planning for the months ahead. I was putting a lot of thought into how we would have an intentional season when I realized I needed to be thinking about how to get back to meal planning that would not only simplify my life but also provide a better assortment and rotation of healthy and delicious meals.
I wanted a system that would allow force me to get more organized and purposeful about sitting down to plan on a more consistent basis, even get back to once a month planning.
My magnetic kitchen pad just wasn't cutting it anymore plus I wanted to have a better way to keep past month's plans for inspiration and as a reminder of what we had recently eaten… so we wouldn't be repeating the same meals over and over again.
About a year and a half ago, I shared my seasonal meal plan template here on the blog. I knew it was time to update it since some of those meals we don't eat very often anymore, plus our schedule has changed a little too.
As I was updating it the wheels in my brain started working overtime and I got the inspiration to create an entire meal planning system that I could easily bind and keep in the kitchen for easy reference and planning. I have to admit, I kind of love it!
Because I'm pretty smitten with it, I wanted to share it with you all too… enter The Complete Simplified Meal Planner!
A 50+ page download filled with everything you need to create a meal planner that simplifies your life and organizes all of your meal planning supplies into one place.
Included is:
A step-by-step guide to printing off and setting up guide to creating a customizable meal planner just right for you
Seasonal meal planning templates
Monthly planning calendars
Weekly meal planning calendars
Shopping lists
Family favorite recipe lists
Recipes to try list
Freezer and pantry inventories
Holiday and special days meal planning worksheets
Kitchen cheat sheets including common substitutions, measurements, freezer guide and more
Recipe cards
and more!
I can't wait to get this meal planner in your hands to help you be more intentional and organized in planning the best meals for your family, whether you are just planning for yourself or for a whole crew!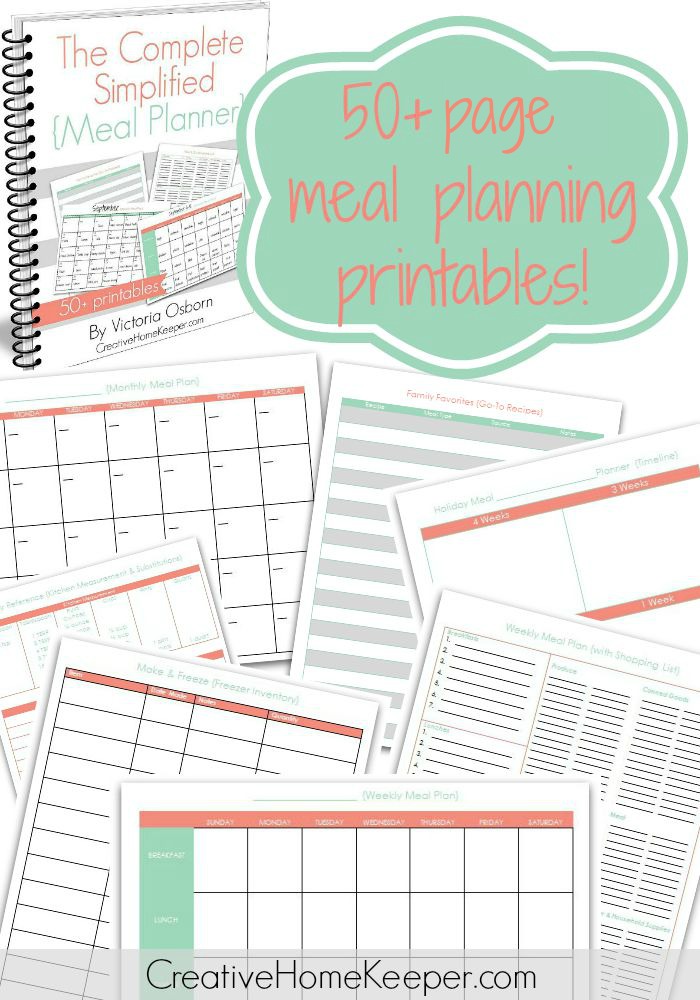 Does creating a Christ-Centered home feel overwhelming?
It doesn't have to be!
Join our community and get the encouragement & guidance you need to find real joy & purpose in your homemaking today! To get started, you'll also get my FREE guide: 10 Easy Ways to Create a Christ-Centered Home!
Plus, when you join the Creative Home Keeper community you will join over 5,000 other women (just like YOU) who are becoming equipped to create a Christ-centered home and are transforming their hearts towards homemaking once and for all!
*By joining the Creative Home Keeper community, you agree to our Privacy Policy.