Savoring the Season as a Family with a Free Fall Bucket List
Fall is coming soon! Take a few minutes to plan for an intentional season with your family.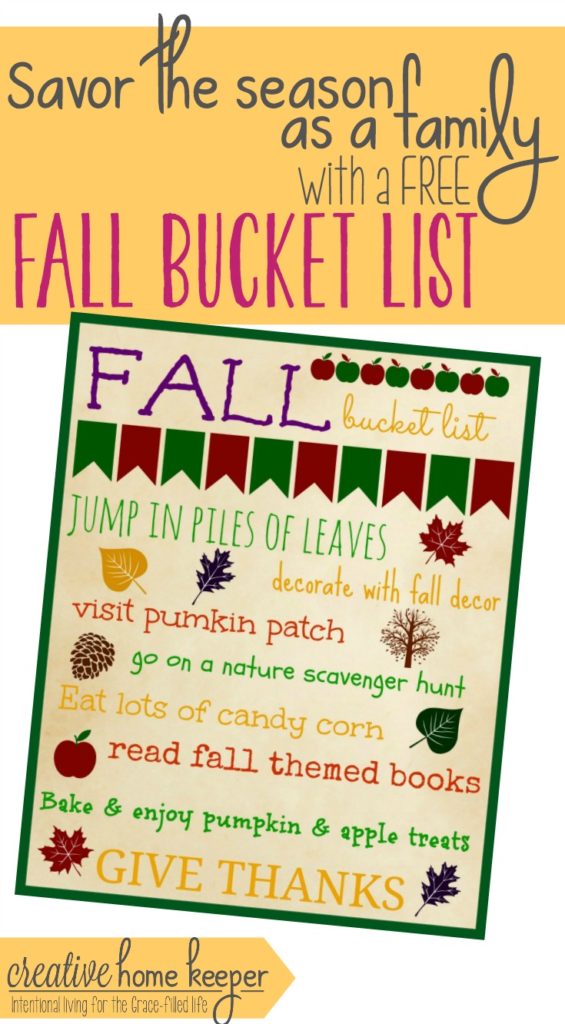 Welcome to the first day of 31 Days of Savoring Fall. I'm a teensy bit excited to be spending the next 30 days relishing in everything that is fall and all it's goodness from sipping warm Pumpkin Spice Lattes, walking through piles of leaves and visiting the pumpkin patch.
October is my favorite month of the year for many reasons. I love how the temperature starts to make a change from the oppressive heat of the summer to cooler, crisp temperatures.
I love watching the leaves change from bright green to deep shades of red, orange, yellow and browns.
I love the smell in the air… I don't even know how to describe it but it's a distinct fall smell of leaves and coolness.
Not only do I love the sights and temperature changes that October brings, but I love the activities from visiting a pumpkin patch to drinking festive warm fall beverages while all cozy in your favorite sweater or boots. I loves toasting pumpkin seeds and making all sorts of delicious pumpkin and apple themed treats.
I love how October effortlessly flows into November, the season of Thanksgiving and gratitude, even though retailers would love for you to believe that the Christmas season starts November 1 as soon as the Halloween decorations and costumes are removed from the stores.
Fall is a relatively short season in my opinion but there are many wonderful delights and experiences to enjoy about the few weeks in October and November before the Christmas rush begins with Black Friday weekend.
Fall is a time to slow down, walk through leaves, pick apples, carve pumpkins, drink warm beverages, bake sweet treats, eat hearty soups and stews and read fall themed books cuddled up on the couch with a scented candle (or two) whose flames add warmth to any room.
It seems counter intuitive to talk about slowing down this season when there are so many fun activities to participate in and in such a short time. But I think there is real merit in slowing down and enjoying the season, despite whatever season you are in. The case could also be made for Christmas, Easter or summer activities as well.
It's easy to fill up the calendar with events and activities and be so hurried or rushed that you don't actually get to enjoy any of the season.
Instead you are more focused on moving from one even to the next without really savoring the time as a family.
One of my goals for writing for the next 31 days on savoring fall was to get myself to slow down. I'm a busy wife, mom and writer. I have a list of goals to complete by the end of the year. I have a "To-Do Before Baby" list of projects that I would like to complete before the holiday season begins. My calendar is filled with appointments and daily to-dos.
It would be so easy for me to go through the motions of completing some fall activities with my family without really enjoying them.
I don't want to just enjoy the fall activities, I want to savor the season as a family.
To live in the moment of jumping in the leaves with my kids.
To taste each juicy bit of a fresh, in-season apple, to go on nature walks with my kids pointing out the sights, colors and sounds of fall.
To cuddle up on the couch with my warm beverage of choice and read stacks and stacks of books tailored for the season.
To focus on gratitude all the while teaching (and modeling for) my kids how to be thankful all year, not only during this season.
I want to be in the kitchen baking with my kids (I should mention that I'm not really a baker but something about the the last few months of the year brings out the baker in me) treats and hearty meals that will fill my family's bellies as the nights turn cool.
I want to enjoy an afternoon at the pumpkin patch watching as my children delight in discovering that illusive, perfect pumpkin in the mazes of yellow and orange, plump and round guards.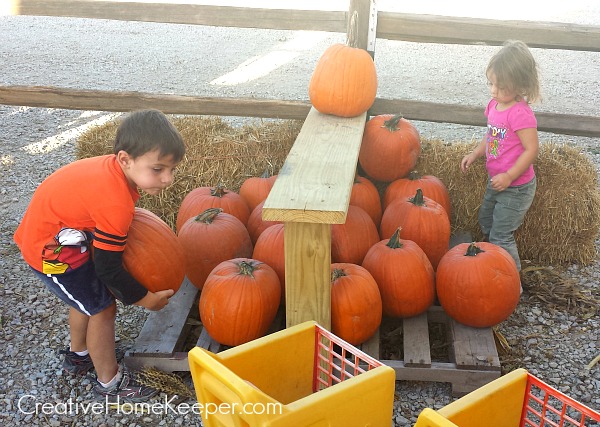 Keeping with theme of the heart of this blog, in order for me to do all of that, I have to be intentional.
Intentional with my time, intentional with my family, intentional with myself. Making a plan, prioritizing what's important, and making a realistic (and flexible plan) for how to accomplish all that I would love to get done during this season.
I have seen several fun fall bucket lists floating around Pinterest and while they are adorable, I wanted to create one that was purposeful for our family this year.
I created it for my family to enjoy and for yours as well. You can download and print this simple fall bucket list of activities to complete with your family over the next several weeks. It prints as an 8 x 10 image.
(To save image to your Photos file, click on the link below to open image in a new window. Then right-click image to "Save Image As")
If you are looking for some family, friendly fall inspiration be sure to check out my Fall board on Pinterest. It's filled with fall crafts, decor, activities and even a few fall themed treats.
 Follow Victoria @ Creative Home Keeper's board Fall on Pinterest.
What are some ways that you are going to slow down and savor the season as a family?