Preserving Memories With a Memory Journal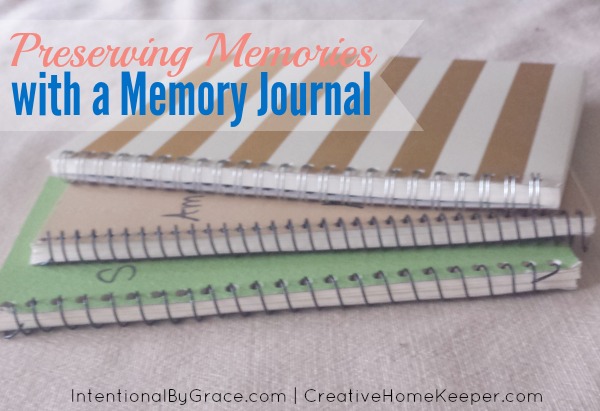 I'm the type of mom who is insistent on preserving memories whether that be through photos, hanging on to special mementos or archiving keepsakes. The problem is I'm not so good at keeping on top of organizing or archiving those said photos or keepsakes.
I have so many photos stored on my phone I desperately need to backup. I have a huge pile in the office with a mix of papers, art projects, special outfits that I would like to keep all in a disorganized pile.
I have dreams and aspirations to someday get it all organized and stored in cute little bins for each of my children. Someday I will sit down and sort through all my kid's art projects. Someday I will organize, back-up and delete all the digital photos. Someday I will finish those baby books. Someday…
While I would love to think that one day my children will be grateful I kept a few special items from their baby days, the reality is that most of the keepsake items I am keeping are probably for myself because I'm sentimental. I don't want to forget these precious days when they were little. I want to remember certain events and I want to share with my children about those special days.
One way that I do that is through keeping a memory journal for each child. A memory journal is just that — a journal to record memories, special dates, milestones, events and other stories from my heart. It's a no-frills way to capture those moments you don't want to forget.
A memory journal is different then a baby book because it's not prompted and there are no lines to fill in about the price of milk or what specific date they lost their first tooth. All three of my kid's actual baby books may have a little creative embellishment in them because I can never actually remember the exact date they did something for the first time. Please tell me I'm not the only one?
To read the rest of this post head on over to Intentional By Grace