4 Reasons Why Family Traditions are Important
Family traditions are important. They were a big part of my childhood, there were things we did during certain seasons no one questioned. They helped shaped and form my family, as well as the memories of my childhood.
Now that I am a mom, it has been such a fun process to create new traditions with my husband for our family. Some are based on things we did as children and others are new ones that we have created together.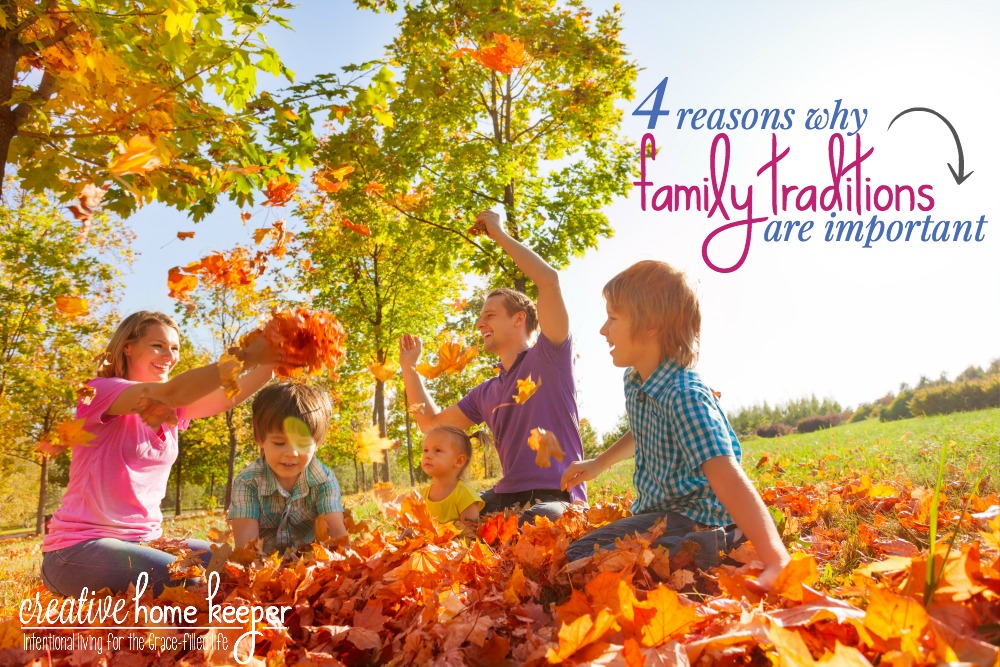 Traditions seem to be much more prevalent around the holidays but there are plenty of traditions that make the ordinary days extraordinary.
As I have been savoring fall over the past few weeks and planned many activities, some of which I included in this season, I look forward to participating in them again year after year.
While we didn't get to go to the pumpkin patch like I wanted, my kids and I have been reading so many fun fall themed books, making delicious goodies and meals, decorating our home and enjoyed being outside together.
We have gone on nature walks, played in the leaves, picked out pumpkins (from the grocery store) and made some sticky slime for Halloween.
Not only have I enjoyed doing these things but so have my kids. My son especially, who is 3.5, still talks about some of the things we have done together as a family this fall and I can't wait to make many of these events a tradition over the next several years.
Outside of savoring fall it seems like we are heading into a time of year where family traditions are even more abundant with the holidays approaching.
While holiday traditions are so fun, and incredibly important, we can't forget about the special importance of those everyday traditions as well.
Family traditions don't always have to be elaborate events, they can be simple occurrences such as family dinners, bedtime routines, before school prayers, daily reading time together, weekly trips to the park… they can be any number of things.
Regardless of what events or activities you deem as traditions, family traditions are so important to the family for a number of different reasons.
4 Reasons Why Family Traditions Are Important
They Allow You to Be Intentional
Family traditions allow us to be intentional with our time together. When you are making the effort to spend time each day, week, or month together, you are making the intentional choice that this activity is important.
For example our bedtime routine is pretty set in stone and our kids know what to expect: baths, PJs, bedtime snack while reading stories with Daddy on the couch, brushing teeth, Bible reading and prayers in bed with Mommy, and lots of kisses goodnight. My son always grabs his Bible as he heads to bed, his child-like faith is growing and I pray that those seeds of belief are being planted through my intentional effort of our evening routine.
Yes… even routines can become traditions and those are so important as well!
They Pass on Family Values
If you have children of your own, how many of the traditions that you do with your own family are also activities that you did with your family growing up? Even if they are new traditions, they still have an important part in passing on a legacy of values that you are working on instilling in your children.
Family values include sharing your faith and teaching your children about God and the Gospel, teaching morals, modeling that time spent together is a priority and your family would not be complete without each member.
We desire for our children to not only be responsible and productive members of society who care for others and display acts of love and service, but our main goal is that our children learn to love the Lord their God with all their hearts, minds and souls.
They Make Memories
Think of all the special memories that are being planted when you spend time together as a family participating in the ordinary day's routines or celebrating a special event together!
So many of my memories from my childhood are those times we spent together as a family intentionally. We ate a lot of family dinners together, participated in several seasonal events and went to church together. These where just ordinary events but they helped shaped my entire childhood and are what I primarily remember.
The same is true for my kids. I have such special memories already of their short, little lives with many more ahead. My son is constantly talking about events we have done together. My camera is full of photos that I plan to place in photo books to help serve as a reminder of these cherished memories, and my son LOVES to look through those photo books on the bookshelves.
They Provide A Sense of Belonging
Spending time together, predictable routines, special days… all of these help our children develop a positive sense of belonging in our family.
When we spend time together as a family intentionally, we are sending the message to our kids that they are special, valued, loved and important. They belong in our family, our family is not complete without them.
What are some simple ways that you celebrate traditions in your family?
This post is part of the 31 Days of Savoring Fall Series. Click here to see all the posts in the series.