Gift Ideas for the Dads in Your Life
Father's Day is just a few weeks away. If you haven't already started to think about what to get for the special dad in your life, I've got the perfect guide with gift ideas for dad for all budgets!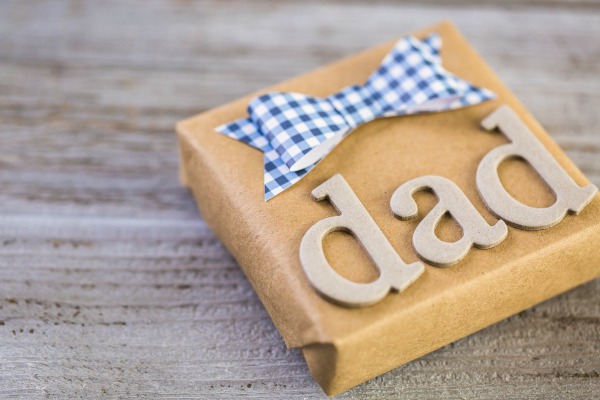 While you definitely don't need to go out and buy an expensive, fancy gift for dad, it's nice to think of a small way to bless the men in your lives who make such a difference and work hard.
Whether it's your own father, a brother, an uncle, a friend or your husband, spending some time thinking through how to bless them this Father's Day is a great way to show them just how much you love and appreciate all the work, support and affection these special men provide all year long.
I've put together a list of some great gift ideas sure to please just about any guy (some are pretty cool for women too). Plus I made sure they were budget friendly too with gifts under $15, $20 and $50. I even scrolled through Pinterest and included my top 6 DIY Handmade Father's Day gifts that are especially thoughtful and inexpensive to make if buying a gift isn't in the budget this year!
So without further ado, here is a list of gift ideas for dad with gifts under $15, $20, or $50
Note: This post has been updated from the archives with new updated affiliate links. Please note that prices may change at any given time so always check before checking out. 
Gift Ideas for Dad Under $15
1. MagnoGrip 311-090 Magnetic Wristband
– Perfect for the handyman! No more dropped screws with this magnetic wristband.
2. Multi-Tool Survival with Knife Blade
– A perfect multi-tool gadget that is small enough to fit inside a wallet.
3. Digital Tire Pressure Gauge
– Practical yet appeals to the techy dad in your life
4.   Pulled Pork Shredder Claws
– Who wouldn't love these bear claw-like shredders to make pulling your favorite smoked or barbecued meat easier? I kind of want some 😉
5. My Dad: His Story, His Words
– For the man who loves to journal, this is the perfect story for him to write in for his children.
6. Custom Leathercraft Handyman Flex Grip Work Gloves
– Perfect work gloves for all-purpose work around the home and yard.
7. Golf Ball Pick-Up
 with golf balls
– This fun gadget is sure to score points for the golf lover.
8. Designed for Greatness Mug – Remind him every morning how thankful you are for him as he drinks his coffee or hits the road.
9. The One Year Uncommon Life Daily Challenge
 by Tony Dungy- A devotional for the avid sports lover.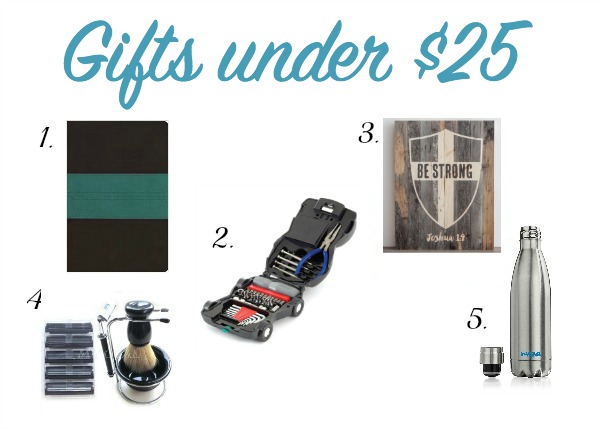 Gift Ideas for Dad Under $25
1. ESV Personal Reference Bible– Give Dad a new small leather-bound Bible to replace the one that's falling apart.
2. 34 Piece Car Hardware Toolkit With Light– Part practical, part toy, this fun complete toolset has a built-in flashlight too!
3. Be Strong Plank Wall Art – A stylish addition to his office to remember where his strength comes from.
4. 4 In 1 Men Chrome Kit Bowl Brush Soap Dish Stand Shaving Razor Beard Clean Set– A fun and practical throwback shaving station.
5. Cayman Fitness Premium Insulated Stainless Steel Water Bottle
– A water bottle that travels well and keeps water cold or hot, depending on your drink of choice.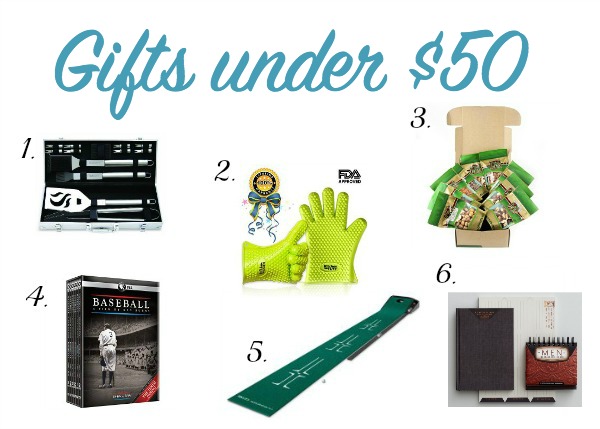 Gift Ideas for Dad Under $50
1. Cuisinart 14-Piece Deluxe Stainless-Steel Grill Set
– Does he love to grill? This set is not only handy but also beautiful too.
2. KitchenTUFFSilicone Oven Mitts
– Perfect for indoor cooking and outdoor grilling or cooking over a campfire.
3. Fathers Day Mixed Nuts Gift Box – 9 Gourmet Nine Varieties – Give the gift of snacking to the nut lover. 
4. Baseball: A Film by Ken Burns (Includes The Tenth Inning)– I gave this to my husband two years ago on Father's Day and my husband watches these documentaries over and over. If you have a baseball lover in the family, this is THE set of baseball DVDs.
5. SKLZ Accelerator Pro Ball Return Putting Mat
– Fun for the whole family, this mini putting mat is the perfect practice to help improve his golf game.
6.A Faithful Man Journal, Calendar & Desk Pad Set– Perfect for note-taking and keeping his papers in order.
6 DIY Handmade Gift Ideas for Dad
I love all of these DIY handmade gift ideas, especially since they are things the kids can get involved in and help to create. Fun gadgets and gifts are always great to give, but it's the personalized, gifts from the heart (or little feet) that Dads cherish the most.
1. We Have a Hero & We Call Him Daddy wood plaque from Shanty 2 Chic
3. Six Pack of Treats for Dad from Soap Deli News
5. You Are My Superhero Card from Glued to My Crafts
2. Decorated Golf Balls from Laughing Kids Learn
4. Dad's Favorite Mug from A Night Owl
6. Scribble Mug from I Heart Arts N Crafts
What are your favorite gift ideas for the dads in your life?