You want to know the key to successful meal planning and kitchen organization? Recipe organization!
This year let's create a haven at home with the 52-week home project. Small, managable weekly tasks and challenges to create a space that promotes peace, inspires creativity, nurtures your family and is not only more organized but also runs with more purpose and intention.
To catch up on all the previous projects, head here. 
Last Week's Project
I decided to camp out in the kitchen for a few more weeks. Not to do anymore deep cleaning but to do a tad bit more organizing and planning in the kitchen.
Part of running a kitchen efficiently is knowing what meals to cook, what your family enjoys and to have easy access to all those family favorite recipes. Sometimes though we create a lot of clutter (behind a closed cabinet door) by all the recipes and cookbooks we have accumulated.
Be really honest with yourself… how often do you use all those recipes?
This week we are going to sort through, purge and organize all of your recipes and cookbooks, both physical books and paper clippings, as well as all the digital recipes you have stored on your computer, Pinterest board, or e-Cookbooks.
This will not only help us to remove the clutter but will also help us as we work on meal planning next week. Alright, let's jump right in…
Project # 12: Recipe Organization
Start with your physical recipes & cookbooks first
Gather all of your cookbooks. Search high and low too. Are there cookbooks stored on your bookshelves, boxed up, stored with your holiday belongings? Round them all up.
Sort through them. Be ruthless. Only keep the cookbooks you actually love and use. The one exception might be a "coffee table" cookbook, one that's too pretty to actually cook from but you love looking through the pictures.
Separate them into 3 piles: to keep, to donate/sell, to throw away (if it's falling apart, sticking together, lots of cooked on gunk… then it's probably best to get rid of it). Decide where you will store your cookbooks you are keeping and place the rest in the giveaway box or trash. If there are only a few recipes you love from a book, write it down on a recipe card with the source cited and get rid of the cookbook, there is no need to keep an entire book for one or two recipes.
Gather all your recipe clippings. Next gather all of those recipes you have clipped out of magazines, printed off the internet, written down on notecards/recipe cards or any recipe that is loose and not stored in a cookbook. (This also includes a recipe binder or recipe box if you have one.)
Sort through every single one. I know this may sound tedious but you really want to sort through every recipe. How many do you have clipped that you have never, nor will you probably ever, make? How many have you made that turned out to be duds? Recycle them. Only keep those beloved recipes that you refer to again and again and maybe a small collection of recipes you really do want to try. Be honest though, read through the ingredients and directions to see if it would even be worth your time or your family's preference.
Store your recipes neatly. If you have never made a recipe binder, now would be a good time. Organize them by dish and hole punch to place in a 3-ring binder or transfer to a small recipe card to store in a small box.
Next move on to your computer and/or eReader
Delete those digital cookbooks. How many times have you downloaded a free cookbook but have never actually opened it? Again be ruthless. If it's been on your computer for more than 6 months and you haven't read it, chances are great you never will. Delete them.
Get those Pinterest boards in order. Same theory applies here, how many recipes have you pinned but have no plans to ever make? Sort through those pins. Save the ones you honestly do want to try but delete the rest. Even digital clutter is still clutter!
Create a Recipe Index. Those digtal recipes will do you know good just sitting on your computer. While you may remember to flip through them while you are meal planning, chances are they will most likely remain stored in the cloud never to be seen again. A recipe index serves as a reminder. Write down your favorite recipes, where they are located, what page they can be found (this works well for a traditional cookbook too) and what type of meal it is. Print off this index and place in your recipe binder or meal planner.
Set Up a Recipe Binder
I am a big fan of using a binder to organize and archive favorite, printed recipes. Instead of having an unorganized mess of recipe clippings torn out from the newspaper, magazine or printed off, I keep them all tidy and organized in one place.
A search on Pinterest will yield hundreds of tutorials and pretty printables to set up a recipe binder or you can just keep it pretty simple. The one important thing to remember when setting up your recipe binder is to only keep the recipes you love or you know you will be trying soon. As you purge through your collection, if there is a recipe you clipped years ago and have still never made, give yourself grace to recyle it.
Supplies
3-ring binder – Depending on how many recipes you have, you will probably want at least a 1″ binder or larger.
3-hole punch
Clear, plastic page protectors – optional but they do a great job of protecting the recipes from liquid and food splatter. They do make the binder thicker, so make sure you have a larger binder
Recipe Index sheet – Be sure to check out the CHK Seasonal Meal Planner for some great organizational printables!
What To Do
After purging through your recipe collection, divide them up by categories (breakfasts, lunch, snacks, pasta, Mexican, Italian, chicken main dish, beef main dish, soups, desserts, etc). Use categories that make sense to you.
Using the page dividers, label each section according to your categories.
If using page protectors, place recipes inside. I like to trim down recipes so I can fit more than one on a single page. If not using protectors, carefully hole punch so you don't lose any of the recipe.
Place recipes and dividers into the binder.
For recipes you love from your favorite cookbook or eBook, use the recipe index page to record the recipe, cookbook name, form (traditional/eBook) and page number for easy reference. I also like to add what type of meal it is for easy planning.
You can make or print a pretty cover or spin cover too if you wish. I keep my recipe binder in the same place I keep my meal planner and main cookbooks in the kitchen for easy reference when I'm mean planning and making a grocery list.
If you prefer to use a recipe box to house your recipes, make sure all of your clipped recipes are either written down on the right sized cards, or trimmed and glued to fit on the cards so you don't have a huge, messy stack of recipes to sort through. House your recipe box on your counter or in a cabinet easy to get to.
A New Project for a New Week
Each week I'll share a new challenge to help us tackle one small area of our homes.
Some weeks it might be a deep cleaning task, some weeks it might be a decluttering task, some weeks it might be a challenge to help you create a space you love, and some weeks it might be a combination of a few different challenges.
The goal for the 52-Week Home Project is to have a home that is not only more organized but also runs with more purpose and intention and just feels more peaceful and calm.
The Next Project
Now that we have gotten our kitchen in tip-top shape and have organized all of our recipes, it's time to tackle the single most important area of our kitchen and homemaking… meal planning!
I'm passionate about meal planning (after all I have created a whole meal planning system!) because it can save you lots of money and lots of time, which as a busy wife and mother is super important. I'm going to go much more in depth next week (hopefully I'll even have a video of my meal planner… fingers crossed!) but for now, here are a few things to help you prepare and start planning.
Project #13: Meal Planning
Create a Meal Planner that works for you. Whether that be a simple calendar, notebook, bullet journal or an actual meal planner, start with a simple system. I realize this is such a vague task 😉 but I promise to go so much more in depth next week!
For more help, you might want to check out these meal planning posts:
The Why, How, When & Where of My Meal Planning
Meal Planning Through the Seasons
20 of the Best Meal Planning Tips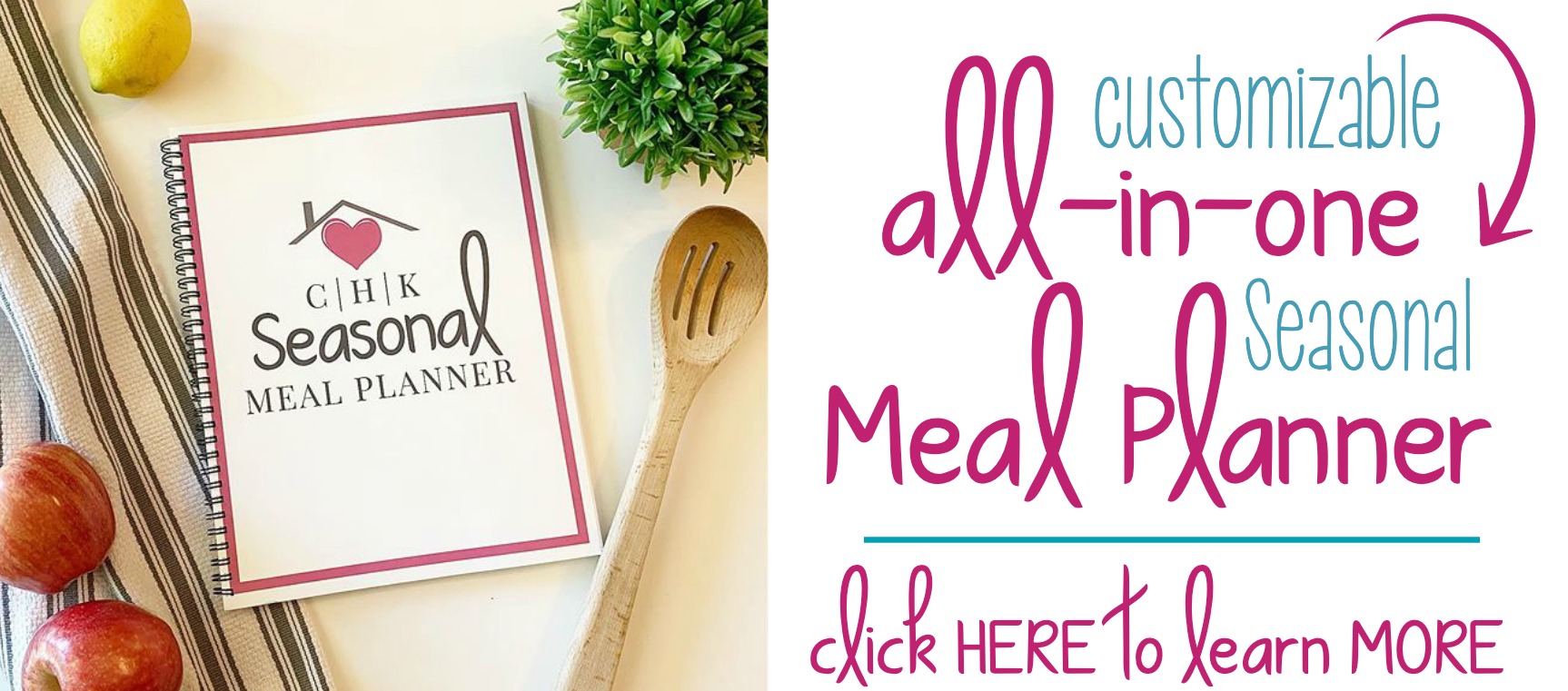 Next Sunday I'll share my progress as well as give our next challenge in the 52-Week Home Project so be sure to stay tuned.
Missed a project in the 52-Week Home Project? Head here to see the complete list of all 52 projects!
How did you do with your 52-Week Home Project this wee? Share your results in the comments below, including a link to your blog post or photo you shared on Instagram, Facebook or Twitter with the hashtags #The52WeekHomeProject