Easy and Comforting White Bean Chicken Chili
I am a big fan of my slow cooker
, in fact you could probably say it my favorite kitchen appliance. What other tool in my kitchen allows me to simply throw ingredients in, walk away and let the contents safely cook slowly all day so that we have a warm and comforting meal ready to go in the evening with very little prep work?
I have been using my slow cooker a lot lately to fill with hearty soups and dinners that are piping hot to warm us at the end of a cold day. And while I'm no fortune teller, I am going to assume that the slow cooker will continue to be well appreciated in a few weeks once baby #3 joins our family.
Along with my love for my slow cooker, I also love super easy meals that require very little prep work on my part. Dinners with only a handful of simple ingredients are the best! 
That is why I absolutely love this super easy and comforting white bean chicken chili. Part soup yet hearty enough to be considered a chili, this recipe only requires 4 ingredients, plus whatever toppings you desire.
Perfect for cold, snowy or busy winter days, just toss all ingredients in the slow cooker and walk away. In fact the longer this white bean chicken chili simmers, the better!
I will always love traditional thick and red chili but what I love about this recipe is that I have to do zero prep work. I don't have to brown or saute any ground meat with peppers before placing it in the slow cooker. The only "prep work" that I usually do is when I make and freeze big batches of stock and beans but I usually do that in advance so I don't really count that as work.
This recipe feeds a crowd, my children and husband inhale it and it's also great for football Sunday too. Alright, ready for the super easy recipe?
Easy and Comforting White Bean Chicken Chili
Ingredients Needed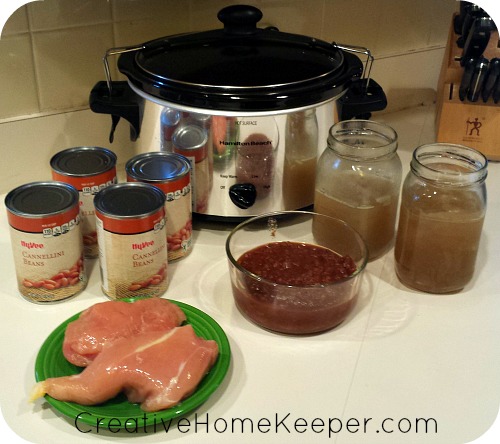 2 pounds of chicken– I use frozen chicken breasts, but you could use what ever cut of chicken you have in your freezer. If you are going to use cooked, shredded chicken I would wait to add that in towards the end so it doesn't overcook.
1 cup of salsa– Fresh or store bought, whatever your favorite brand or what you have in your fridge, simply throw it in.
4 cans of white beans or 8 cups of cooked beans- I always make sure to drain and rinse the beans if using canned.
4 cups of chicken stock or broth– whatever you have in your pantry or refrigerator. I actually use them pretty interchangeably which I know some foodies turn their noses up.
Step One
Drain and rinse the beans if you are using canned. Place chicken, beans, salsa and chicken stock in the slow cooker and give a good stir. I perfer to use use frozen chicken breast since I usually always forget to defrost the chicken the night before. Plus since it's cooking all day, it is less likely to overcook.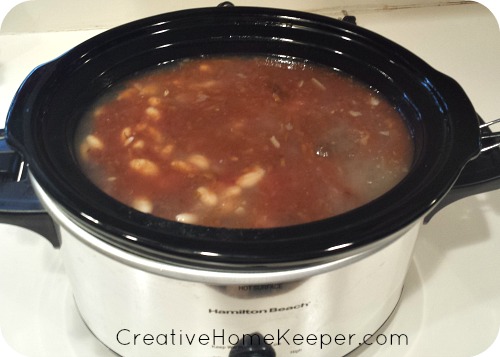 Step Two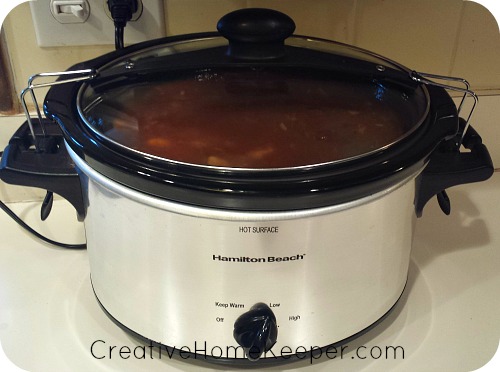 Place the slow cooker on low and allow to cook and simmer for at least 8 hours, the longer the better.
Step Three
When you are ready to serve, remove the chicken and shred with a fork and return back to the slow cooker and stir to incorporate.
Step Four
Ladle the soup into soup bowls and top with your favorite ingredients. We are fans of shredded cheese and tortilla chips but you can also use sour cream to add a more creamy texture, chopped green onions, more salsa, and avocados or guacamole.
Enjoy!
That's it! I told you this was the easiest recipe, plus it's delicious too!
This soup/chili also freezes really well so if you have leftovers (which we hardly ever do!) you can freeze into mason jars (just leave about an inch of air at the top for expanding) or in individual glass bowls.
You can also make freezer kits by placing all the ingredients into a large gallon sized freezer zipper bag
. When you are ready to make, just pull the bag from the freezer and dump directly into the slow cooler and turn on. Easy peasy! I'm actually making a few bags of this to place in the freezer so we have some ready to go this winter once the baby comes.
What is your favorite chili recipe?