How to Avoid Goal Setting Burnout
By Contributing Writer, Hannah Jinks
We've all been there.
January begins with high hopes and a page full of awesome goals to accomplish. The first few weeks go well…and then life kicks in, and your goals slowly become more and more difficult to keep up. By the end of the month you've completely lost all motivation to keep working on your goals and are frustrated at another year's resolutions going up in smoke.
Most of us have faced this struggle, and yet we do it again and again, year after year.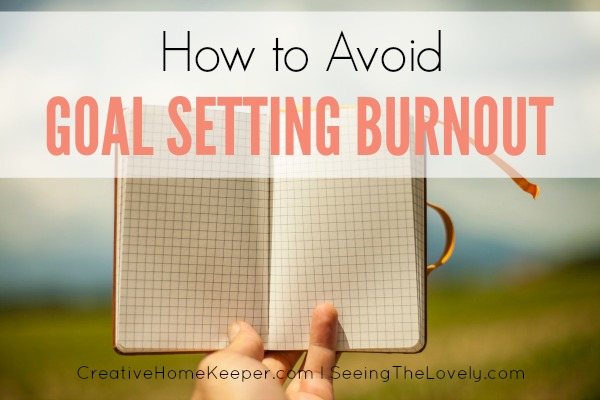 If I look back over the goals that I set this past year and am honest with myself, I see how many of them I let fall to the wayside. Practice piano 30 minutes 3x a week? More like 10 minutes here and there…maybe. Do a monthly reflection of my goals? That lasted for about three months.
Despite the fact that many of my goals failed, there were also some that I did manage to complete. Read 75 books in a year-check. Save money for our mission trip to Germany-check.
As I reflect on these goals I wonder, why did I meet certain goals and yet fail at others?
After comparing the goals that succeeded versus the goals that failed, I found that there are a couple of key aspects that helped me actually accomplish my goals.
First of all, your goals need to be specific
I'm sure you've heard this advice before, but it's so important (and hard to do!) that it's worth repeating again. If you're goals aren't specific, you are bound to fail.
I know that sounds harsh, but it's true.
I can't tell you how many times I have set a goal, only to have it fail because I didn't really make it specific. I assumed that if I planned to "try new recipes" it would just magically happen over time. Because I didn't put that goal into words that I could latch onto and actually do something about, it never took off.
Vague goals lead to vague results.
Planning to "eat more healthily" this year? Odds are you'll start out looking into different ways to eat better, but it's not likely that you'll make any lasting changes.
A better way to set goals is to use concrete and actionable words. My goal of trying new recipes would have found better success if I had planned to try two new recipes a month, or a new recipe every Monday.
Using these specific and easy to put to action words would have given me an easy place to get started and kept me accountable throughout the year.

Don't begin too many goals at once!
This is the one that really gets me.
I often get super excited about setting goals and establishing all kinds of new habits that are going to totally change my life…and then try to implement them all in January!
Let's be real, am I going to magically work out more, eat right, practice piano, and learn a new skill-all in January?
Not likely!
Trying to change your habits all at once is just not realistic for most of us. Don't overwhelm yourself with a completely new routine, since this often leads to failure within the month.
Instead, make a plan to implement your goals gradually throughout the year. One way is to start working on one new goal a month and really focus on accomplishing that goal or making it a habit. Maybe in January you can work on reading 30 minutes before bed and really focus on making this a regular part of your routine. By the end of the month it will have become a habit, and you can focus on your next goal.
These two aspects of goal setting will help you plan more realistically and get closer to accomplishing your goals for the year. However, in all of this goal setting, it's important to give yourself some grace as well. Remember that:
"Many plans are in a man's heart,
But the counsel of the Lord will stand."
~Proverbs 19:21
It's easy to get carried away with setting goals and all of the ways that you can improve yourself and your life. Throughout all of your planning and preparing, never forget that no matter whether or not your many goals are accomplished this year, God has it in His hands, and His perfect plan will happen no matter what.
That's the real key to avoid goal setting burnout. Put your life in God's hands, and you can have peace in your plans.
How do you avoid goal setting burnout?