Want a stronger, more unified marriage? You can greatly impact your marriage with this one small habit.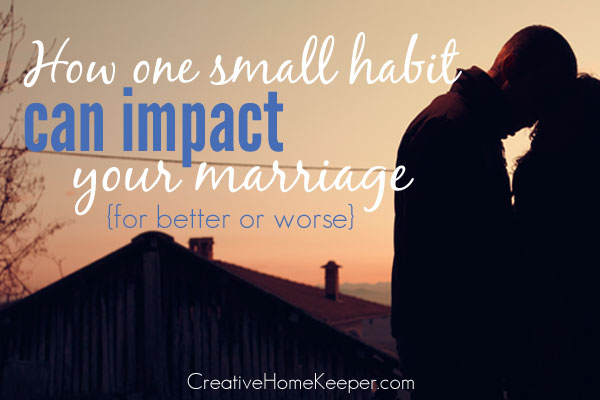 By Contributing Writer, Kelsey Ferguson
It starts in our minds, invades our hearts, and slips out through our tongues. It has the power to tear down or build up. It can either be your marriage's greatest strength or weakness.
This habit we are talking about is simply how we look at our spouses.
Are we quick to find flaws and dwell on mistakes? Or are we grace-filled and grateful for all the good we see in them?
This habit—for better or worse—is greatly impacting your marriage. Which way depends on how you answered those questions.
How One Small Habit Can Impact Your Marriage (for the better)
Have you ever noticed when your husband does something to annoy you, your brain offers up all the other times he hasn't met expectations?
But when you are surprised by his kindness, you say, "I can't remember that last time you gave me a massage or I got to sleep past 8 or had breakfast in bed."
For whatever reason—although I'm guessing it has something to do with survival of the fittest—our brains are more apt to remind us of the bad in another than the good.
Friends, we need to be extra attentive about the good we see in our spouses.
When we are ready to stop fixating on the wrong things, we need to seek God's guidance. Let's quiet our hearts and minds before God to ask for all that we need to love our spouses well. Without God's love and guidance, our striving is pointless.
Stop Focusing on the Bad
Before we move on to looking for the good, we need to stop focusing on the negatives.
If we are in the habit of pointing out our spouse's mistakes, we are much less likely to respond with grace and love.
When my husband and I were first married, I constantly nagged him. And because of that ugly habit, he'd come home from work and tune me out. And since he was tuning me out, I would nag him some more. It was a ridiculous cycle.
But this habit of nit-picking can be swung the other way to impact your marriage—for the better.
Start Noticing the Good
When I stopped dwelling on everything my husband wasn't doing right, he stopped checking out as soon as he got home. We started seeing and expressing the good in each other.
I love this excerpt from Love and Respect by Emerson Eggerich,
"Ultimately, you practice love or respect because beyond your spouse you see Jesus Christ and you envision a moment when you will be standing before Him at the final judgment, realizing that your marriage was really a tool and a test to deepen and demonstrate your love and your reverence for your Lord." (emphasis mine)
When I started looking past my husband and started seeing a man who God loves just as much as me, I started looking for Jesus in him.
I began to journal all the reasons I loved my husband. I took notice of his acts of love. No matter how small they seemed.
He makes our bed, despite never sleeping in it. (Oh, the life of a fireman.)
He would surprise me with my favorite drink. (Unsweetened tea from McDonald's.)
The way he plays all in with our son.
Getting Started: Journaling the Good
That journal is one of my favorite books to reread, especially when I am feeling critical. If you want to break the habit of a critical spirit and tongue and swing the pendulum over to grace and love, I highly recommend recording all the good things about your spouse.
You know Ann Voskamp's 1000 Gifts, where she lists 1000 moments of gratitude in a year? You're going to do the same, but specifically for your spouse. Philippians 4:8 is a great place to start.
Finally, brothers and sisters, whatever is true, whatever is noble, whatever is right, whatever is pure, whatever is lovely, whatever is admirable—if anything is excellent or praiseworthy—think about such things.
Why Seeing the Good Is Worth It
When we express our gratitude and acknowledge even the smallest acts of their love, we are gifting them the love language they desire.
Change doesn't happen overnight.
Stay the course, it's worth it.
What one small habit had deeply impacted your marriage? 
Are you looking for some more resources for building a strong marriage? I highly recommend the following books: