My Simple Afternoon Ritual to Refresh & Recharge
Refresh and recharge with a simple afternoon ritual by making it a priority to refuel by taking a few minutes of "Me Time". Grab a book and your favorite cup of warm tea to enjoy a little Nap and Me Recharge Time.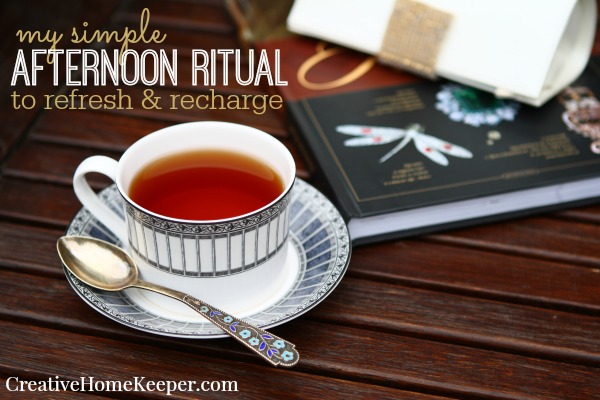 There are two pieces of conflicting advice mothers often hear when they first become a mom. One is to sleep whenever the baby is sleeping and the other is to try and get as much done as you can while the baby is sleeping.
Both contradict each other yet both have merit.
Being a mom and exhaustion sort of go hand in hand so resting and taking naps while the little ones do is often not only necessarily but much needed. On the other hand any mother will tell you that trying to get any sort of chores or items crossed off your to-do list while you have little ones awake is almost impossible. So that's why it's important to use those precious nap hours to your advantage.
Over the past five years I have taken both of those bits of advice seriously. Some days I can't function without napping too (more often then not it was usually because I was trapped under a sleeping baby!) and then there are days where I am so motivated to tackle my to-do list and get things done.
Now that I'm emerging out of the newborn phase my view of the nap time hour has greatly changed. I don't need a nap (some days I do!) but I know the importance of taking time for myself and restoring my weary soul.
As a work at home mama, I do need to use the afternoon nap time to my advantage but I also make it a priority to refuel myself by taking a few minutes of "Me Time" to recharge.
Once I get my youngest two down for a nap and my oldest set up with his quiet time activity, I have a simple afternoon ritual which I like to call Nap & Me Recharge Time.
Light a Candle
Lighting a candle has been a favorite part of my morning ritual for a while now but recently I started to incorporate it into my afternoon ritual as well. I have a favorite clean scented soy based candle that not only smells heavenly but revitalizes my spirits.
Some days I might also diffuse a calming and rejuvenating essential oil too.
Make a Cup of Tea
I will be the first to admit that I love my coffee but I can't drink it past 10:00 am or I'll be up all night! But I do love the warmth and comfort of a hot beverage so I have started to have my afternoon cup of tea.
Before the kids are even settled down for their quiet rest time, I start by filling my tea kettle and placing it on the stove to start boiling the water, that way it's ready to go when I'm ready.
Currently my afternoon tea of choice is one of the New Lipton Herbal Teas which included real ingredients combined with the best herbal tea blends to awaken the senses. It's soothing and rejuvenating!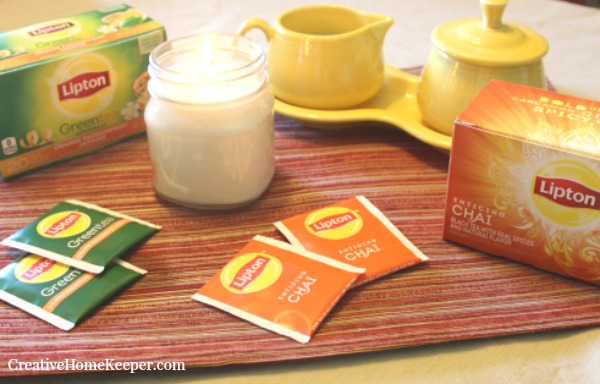 Lipton's new black, improved green teas and herbal varieties refresh the tea experience with bold and stimulating flavors, such as Enticing Chai, Pure Green, Orange Passionfruit Jasmine and Peach Mango. The multi-sensory teas refresh standard tea time, creating an exciting and unique tea-drinking experience. Check out the full line-up of Lipton Green, Black and Herbal tea flavors here.
I have two current favorite afternoon tea recipes, one warm and one served over ice. Depending on my mood, I'll choose one to drink, but if I'm being honest, I love my warm tea AND my iced tea every day! 😉
Enticing Afternoon Chai Tea
*The perfect comforting and creamy beverage to warm your insides.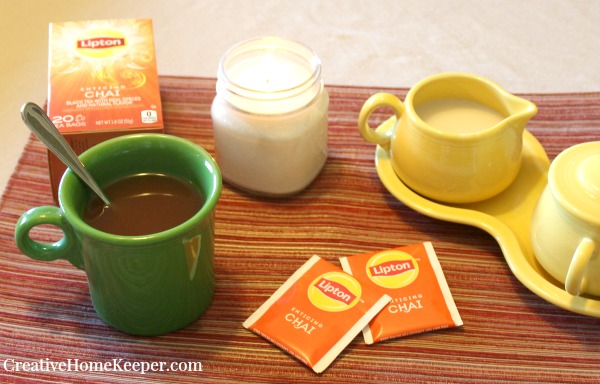 Ingredients
1 cup of water
1 Enticing Chai Lipton Tea Bag
2 TBSP unsweetened almond milk
1/4 tsp pure vanilla extract
Instructions
Boil the water and pour over the tea bag in a mug. Let brew for about five minutes then remove the tea bag.
Pour the almond milk into the tea and mix in the vanilla.
Enjoy this warm, soothing and delicious cup of Chai!
Refreshing "Good Girl Moonshine" Orange PassionFruit Jasmine Tea
*Inspired by my love for a Trim Healthy Mama all-day sipper, the gentle flavors of the tea combined with the warmth of the ginger with light a spark! 
Ingredients
2 cups of water
4 Orange PassionFruit Jasmine Lipton Tea Bags
2 TBSP Apple Cider Vinegar
1 tsp ground ginger
1/8 tsp pure Stevia
Instructions
Boil the water and pour over tea bags in a quart sized pitcher. Let brew for about five minutes then remove the tea bags. Store the pitcher in the refrigerator until chilled.
In the bottom of mason jar mix the vinegar, ginger and stevia together. Fill the jar with ice and pour the tea over the ice and vinegar mixture. Secure the jar lid on tightly and shake well to mix together.
Remove the lid and place a straw in the fizzy and refreshing tea!
Grab My Book
My Nap & Me Recharge Time wouldn't be complete without the current book I am reading. While I usually have several books going at once, it usually just depends on the mood I am in as to what book I will choose to read. Usually I always have a fiction book, Spiritual growth book, business inspirational or a marriage/motherhood book going.
As I mentioned above, while I do need to take advantage of the afternoon nap hours from my kids, I always allow myself to take 20 to 30 minutes for myself to read and recharge while I am sipping my tea. It helps me to be more productive when I do have to get up to tackle my to-do list.
Cozy Up in My Favorite Chair
Finally with my candle lite, my warm (or cool) tea of choice and my book, I settle myself in my favorite cozy brown oversized rocking chair. It's my favorite spot in the whole house.
Just spending these 20 to 30 minutes with my Lipton Tea, my book and my favorite scented candle totally refreshes me for the afternoon ahead. My mood improves, my productivity increases and after spending this time on myself, I'm ready to pour into and love on my kids when they wake from their afternoon naps.
How do you take time each afternoon to recharge and rejuvenate yourself?
Lipton's new line of teas are amazing and are sure to be loved my tea enthusiasts, like you and me! They have a great selection of teas to choose from and can be found in most retailers nationwide. Be on the lookout for these refreshing and enticing Lipton Teas next time you hit the grocery store:
Improved Lipton Green Teas:

Pure Green Tea
Orange Passionfruit Jasmine
Cranberry Pomegranate
Lemon Ginseng
Purple Acai Blueberry

New Lipton Black Teas:

Daring English Breakfast
 Enticing Chai
Amazingly Grey
Stirring Ceylon
 Irresistible Lady Lipton

New Lipton Herbal Teas:

Lemon Ginger
Peach Mango
Berry Hibiscus
 Apple Cinnamon
I was selected for this opportunity as a member of Clever Girls and the content and opinions expressed here are all my own.