This year let's create a haven at home with the 52-week home project. Small, managable weekly tasks and challenges to create a space that promotes peace, inspires creativity, nurtures your family and is not only more organized but also runs with more purpose and intention.
To catch up on all the previous projects, head here. 
Mid-September, the weather is still warmer than I would like but there are pumpkin sightings, fall festival posters up, the sounds of the marching band playing in the football stadium and lots of apples of sale in the grocery store. All of this can only mean one thing…
Fall is officially almost here!
The first day of fall is this Thursday (September 22) but since the calendar turned the page to September 1st, I've been in full fall mode. I love this season so much!
With fall comes the arrival of lots of family fun activities. It can be easy to say you will do them but as in all things, unless you actually make a plan, they probably won't happen.
This week as we move into the fall season, for our weekly project let's sit down together as a family and create a fall bucket list!
Project 33: Create a Fall Family Bucket List
Print off this summer bucket list form as inspiration. Plus it makes a beautiful edition to your fall decorations!
Schedule a time to sit down together as family.
Have each family member list 1 or 2 things (maybe more) of specific things they would like to do this fall.
Pull out the calendar and schedule some dates in!
If you have to purchase tickets, make a plan to set aside money from your budget to purchase those.
Display your bucket list on the refrigerator or even place in a nice 8 x 10 photo frame in a prominent place in your home.
A New Project for a New Week
Each week I'll share a new challenge to help us tackle one small area of our homes.
Some weeks it might be a deep cleaning task, some weeks it might be a decluttering task, some weeks it might be a challenge to help you create a space you love, and some weeks it might be a combination of a few different challenges.
The goal for the 52-Week Home Project is to have a home that is not only more organized but also runs with more purpose and intention and just feels more peaceful and calm.
Missed a project in the 52-Week Home Project? Head here to see the complete list of all 52 projects!
How did you do with your 52-Week Home Project this wee? Share your results in the comments below, including a link to your blog post or photo you shared on Instagram, Facebook or Twitter with the hashtags #The52WeekHomeProject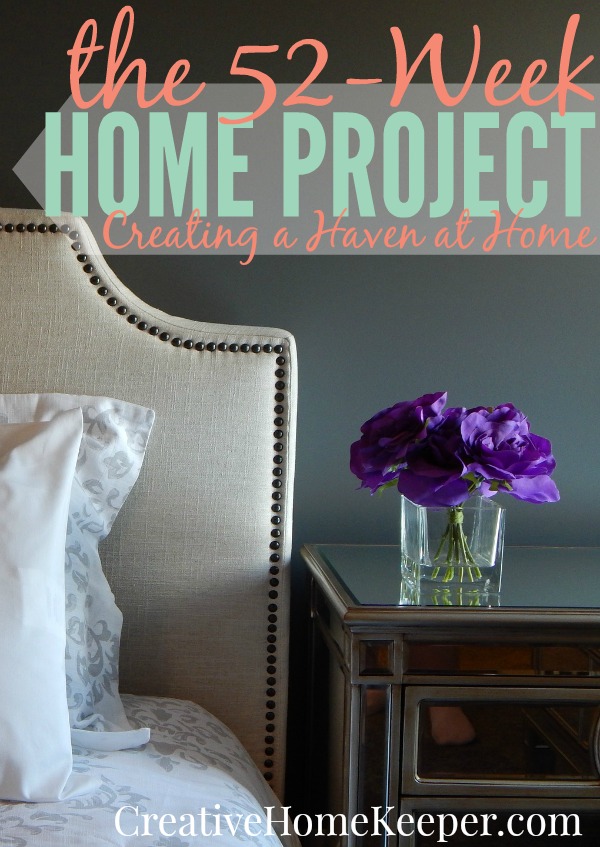 Plant God's Word Deep in Your Heart!
Download your free Scripture Graces Quick Start Guide to Writing Through the Bible today!

Join the community of over 8,000 women who are learning how to prioritize their home life while nurturing a thriving faith with a little bit of encouragement delivered weekly to your inbox -- plus get this FREE workbook!