Looking for some new favorite read aloud children's books to enjoy together as a family? Check out this list of 21 tried and true children's books.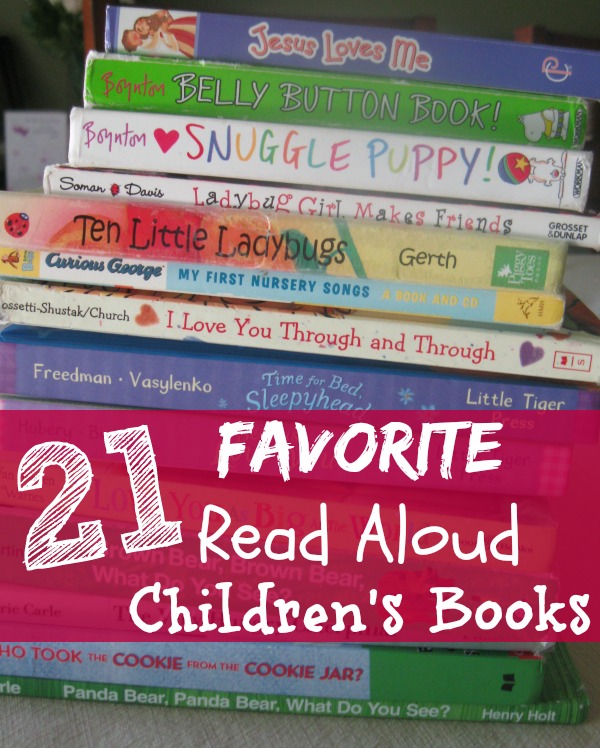 It's no secret that I am a book lover by the fact that I am constantly sharing my favorite books and what I have been reading with you (although due to not so fun early pregnancy symptoms, I haven't been reading much lately). While it's a given that I'm a huge fan of books, it brings me much pleasure to watch my children grow into little book lovers too!
We read a lot of books in our home together. I keep several baskets of board and picture books around the house so they always have books nearby. I feel like we are reading constantly and I couldn't be more thrilled!
I wanted to share with you some of our favorite read aloud children's books that we read all the time. In fact we read them so often I'm pretty sure I have them all memorized! Most of these we have read so many times that they have had to be rebound and pages re-taped, but really that's just a sign of love when a book is being worn out 🙂
I hope you come to enjoy some of these beloved books as much as my family does, maybe you'll even discover a few new ones!
Jesus Loves Me by Anna Warner
Such a sweet little board book that is teaching my kids the words to a beloved classic song about the love Jesus has for us. The pictures are adorable and this includes several versed of the well known song to help kids memorize it.
Belly Button Book
and Snuggle Puppy by Sandra Boynton
I'm kind of a fan of Sandra Boynton and so are my kids! We own these two books, and have checked out a few more from the library. I love that her funny and silly books are interactive, contains rhythm (which is an important factor in early literacy) and are just hilarious.
My kids giggle every time we hunt for their belly button or when I give them a big smooch in accordance with the story. Along with the rhythm, she usually also includes a short song which my oldest loves to sing along with.
Ladybug Girl Makes Friends by Jacky Davis
This sweet, simple books teaches the lesson about friendship, helping one another and playing nicely together. There is a whole series but this is the one we own.
Ten Little Ladybugs by Melanie Gerth
Who doesn't love a good counting book? I love this one because it includes 10 3-D ladybugs that my kids can count. Every page loses a ladybug only for them to all be reunited together at the end.
Curious Baby My First Nursery Songs (Curious George Book & CD) by H.A. Rey
First off, Curious George is a beloved friend in our home. Both my kids have little monkey stuffed animals that they love, not to mention that the Curious George show on PBS is always requested (I finally got smart and recorded a few on the DVR so they can always watch an episode if it's not on. This is perfect for cuddle time when someone wakes up early). My son got this as a gift when he was a baby and it has been loved ever since.
Included with the board book is a CD that contains 3 different versions of each Nursery Song included: traditional sing along, words without the music and music without the words. Plus what I love is that unlike other children's music CDs which contain over the top characters and music, this is a singer/songwriter who has the most tranquil voice yet still engaging for children. It's probably my most favorite off all our children's music.
I Love You Through And Through by Bernadette Rossetti Shustak
This sweet book goes through all the things that I love about each of my children. Their insides, and outsides. Their silly sides and mad sides, and on and on again. My kids love it when I point to their body parts or use my voice to describe their crying or laughing.
This book is also illustrated by Caroline Jayne Church who has either illustrated and/or written the next few books on my list.
How Do I Love You? by Marion Dane Bauer
A play on the classic, "How do I love you? Let me count the ways." Another sweet book that describes a parent's love for their child through different activities and characteristics.
Goodnight, I Love Youby Caroline Jayne Church
The perfect book for bedtime as it walks you through a normal bedtime routine of picking out pajamas, taking a bath and brushing teeth. Plus I love how this book continues to display a parent's love for their child.
Ten Tiny Toes by Caroline Jayne Church
Part counting book, part book that moves through different body parts explaining just how much little ones are loved. My kids love it when I try to count their toes or kiss them while reading this making it an interactive book too.
Another sweet bedtime story of a little bunny who is walking the sleepy way home with his mother and encounters several friends along the way. This one gets requested at nap time quite a few times a week!
Because I Love You by Julia Hubery
Not that we need books to tell our kids just how much we love them but sometimes the way it's worded brings comfort to them. This is a great book to read snuggled up together with the reminder that there is nothing they could do to make me love them any less.
I Love You As Big As the World by David Van Buren
Another sweet book that shares how great and big love is between family members. Another great book to read together while snuggled up together on the couch or in bed.
Brown Bear, Brown Bear, What Do You See? Slide and Find (World of Eric Carle by Bill Martin, Jr.
We are a fan of the "What Do You See?" books and my kids love this one because it's a hands on book where they can slide the picture over to see what animal comes next. My daughter especially gets excited about pointing out the different animals.
Panda Bear, Panda Bear, What Do You See? by Bill Martin, Jr.
This "What Do You See?" book has gotten so much attention over the last few years that many of the pages are taped together! In fact my son has this one memorized so it's fun to see him "read" it on his own. Even my daughter knows the names of the animals too!
The Very Hungry Caterpillar by Eric Carle
Who doesn't love Eric Carle's books? Beautifully illustrated along with a well written story. Plus my kids love to count the holes in the food that the hungry caterpillar has eaten along the way.
Who Took The Cookie From The Cookie Jar? by David Carter
Yes we love to chant this rhyme in our house! And this adorable pop up book goes through several different animals as you try to figure out who stole the cookie from the cookie jar. This is another book that I have had to tape up!
Counting Kisses: A Kiss & Read Book by Karen Katz
A counting book that counts kisses! This is the sweetest one of all. My kids LOVE this one especially since they get a ton of kisses along the way. Plus I'm a fan of Karen Katz's books!
The Colors of Us by Karen Katz
This was a book that I discovered when I was an education student, and the book that introduced me to children's author Karen Katz. My son recently started to notice different skin colors and has been asking about them. This book walks children through the different colors of people and how we are all the same yet different. This is a great book to help kids begin to understand diversity and ethnicity.
The Jesus Storybook Bible: Every Story Whispers His Name by Sally Lloyd-Jones
I've shared this Bible story book many times because it is definitely a beloved favorite in our home. Every night at bedtime before prayers, I read aloud a chapter to my kids. Even if I forget to pull it out my son will say, "We need to read Jesus Mama!"
This has defensively blessed my heart as well because even though I read and studied the Bible, this beautifully written children's adaptation has even helped me to better know the Bible better.
The Big Picture Story Bible
by David R. Helm
I actually alternate reading these two children's Bibles. When we finish reading through the Jesus Storybook Bible, I will begin reading through this one. My son especially loved to look at these illustrations as we read plus the edition that we have comes with the audio CDs so my kids can listen to the Word of God anytime they want!
I know that there are a lot of quality children's Bible storybooks but these two are top notch when it comes to sharing with your kids about God's love and His story from creation through Jesus and beyond.
So those are our top 21 favorite read aloud children's books that we literally read daily. There are many more wonderful books out there but these are the ones that kids pick out and want me to read again and again. For the mama who loves books herself, it's always a blessing to see my kids growing to love books as well!
What are your favorite children's read aloud books that have been a treasure in your family?