Easy and Yummy Pumpkin Butter
'Tis the season for all things pumpkin and I couldn't love it any more!
I didn't always use to love the flavor of pumpkins and other squash but I have grown to love the smooth, creamy and rich flavors that are so prominent this time of year. I know not everyone is such a pumpkin fan but hang in there,  in a few weeks all the pumpkin talk will be replaced with peppermint and gingerbread 😉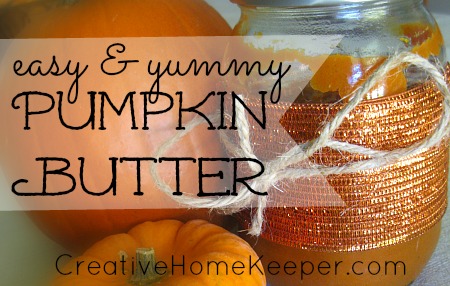 One of my favorite pumpkin snacks is smooth, creamy, easy and yummy pumpkin butter. It's the perfect treat for dipping apple slices in, healthier than caramel but there will always be room in my heart for decadent caramel!
Pumpkin butter is also the perfect all-purpose spread this fall season. I love to spread pumpkin butter over toast but lately I've been on an English Muffin kick and pumpkin butter is the perfect condiment to spread on top of your favorite pastry in the morning, or in my case anytime during the day! It is great to top on pancakes or waffles too.
Or to make it a sweet and savory snack, spread a layer of pumpkin butter on your favorite whole grain cracker or toast, top with a slice of cheese and sprinkle with a few favorite nuts of choice. Delicious and filling!
I also love that pumpkin butter is a fun way to spread some hospitality around. This recipe actually makes two big mason jars that hold 2 cups each. That's a lot of pumpkin butter! More than we could eat before it goes bad, so it's the perfect gift to pass on to some new neighbors, parents of a new baby, a family in need or just a special friend. You can even dress up the jar a bit to be more festive!
Easy and Yummy Pumpkin Butter
Ingredients Needed
2 15 oz. cans of Pumpkin puree
1 cup of pure maple syrup
1/2 cup of apple juice- as you can see from the picture all I had on hand were mini-juice boxes which contain the perfect amount
Juice of one lemon
2 tsp ground ginger
1/2 tsp cinnamon
1/2 tsp nutmeg
OR
3 tsp pumpkin pie spice (to replace the ginger, cinnamon and nutmeg)
1/4 tsp salt
Chopped almonds or nuts of choice (optional)
Step One
Heat a large Dutch oven over high heat. Combine all ingredients in the pot and stir well to combine. Bring the pot to a boil than reduce heat to medium-low.
Step Two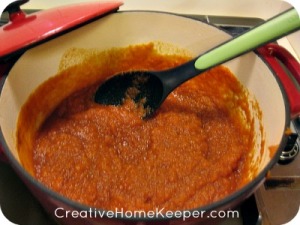 Continue to cook on low heat, uncovered for about 25-30 minutes. Stir frequently until pumpkin butter thickens up.
Step Three
Remove from heat and let cool. Ladle the pumpkin butter into glass jars or containers with an air-tight lid leaving about 1 inch of head space. This will store in the refrigerator for about 2 weeks or you can freeze for up to 6 months.
Step Four 
To serve, spread on top of your toast or your favorite bread, or serve as a fruit dip. You can also top with your favorite chopped nuts, which will help balance out the sweetness of the pumpkin butter.
Enjoy!
What is your favorite way to enjoy the flavors of pumpkin this season? 
This post is part of the 31 Days of Savoring Fall Series. Click here to see all the posts in the series.