14 Christmas Eve Traditions for Your Whole Family
Celebrate Christmas with a few thoughtful and intentional Christmas Eve traditions your whole family will love!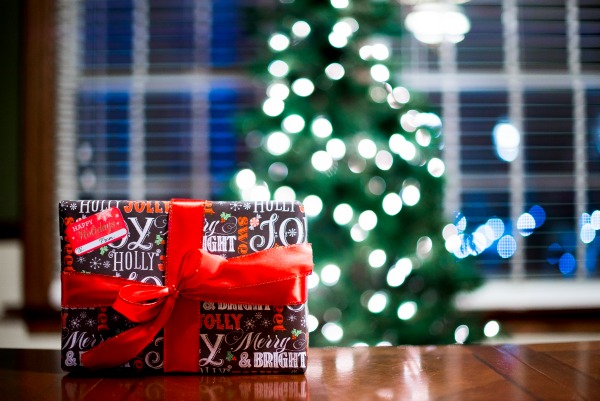 Christmas Eve is one of my favorite days during the holiday season. There is fresh anticipation and excitement of what's to come, both in the joy of Christmas and the birth of our Savior.
Plus it's just a fun day to spend together as a family before the activities of Christmas day begin!
For my family, Christmas Eve is spent at home together.
I know that Christmas morning will be bursting with excitement. With young children, as much as I want our focus to be spent on the true meaning of Christmas, sometimes things get a little too exciting for them… if you know what I mean! ?
With that in mind, I try to keep the night before Christmas as intentional as possible with a few meaningful Christmas Eve traditions that focus on faith, family and the spirit of the season.
With the exception of going to church, we don't typically leave the house.
Instead, we stay inside and spend as much time together creating memories and looking forward to the day ahead.
Depending on your family's Christmas commitments, Christmas Eve might be the best day to incorporate some intentional, fun and meaningful traditions.
While we currently don't do everything on this list, below are some of my favorite Christmas Eve traditions.
Some I look forward to doing with my family in years to come when the kids are older, and others are beloved activities we currently do.
14 Meaningful Christmas Eve Traditions
Bake a Birthday Cake for Jesus
Spend time in the kitchen with a special baking project the whole family can be apart of!
Bake a cake, pie, or another favorite sweet treat, to celebrate Jesus' birthday with.
For younger children who associate birthdays with cakes, this is a perfect symbol to help them grasp that we celebrate Christmas because of Jesus' birthday.
On Christmas morning, you can sing happy birthday to Jesus together as a family.
Have a Marathon Christmas Book Reading
We do an Advent Book Countdown where we open a new book every day leading up to Christmas.
We keep all of the books in a book basket under our Christmas tree.
Christmas Eve is a perfect time to gather the family and cozy up on the couch with the Christmas tree glowing in the background and read through the entire collection together.
Some of our favorite Christ-Centered Christmas books are:
Santa's Favorite Story (perfect for little ones who have questions about Santa but puts the focus back on Christ)
Go to Church Together
Christmas Eve service is my favorite of the year!
I love the candlelight service and every single year I get choked up singing Silent Night as the church goes dark except for the gentle flickering frames.
Read the Christmas Story
There are so many wonderful children's books that reveal the true meaning of Christmas but nothing can replace the first Christmas story read directly from the family Bible.
Read through the Gospel of Luke chapters 1-2. I also love the genealogy of Christ listed in Matthew 1.
While the Nativity story isn't directly shared in John 1:1-18 are especially beautiful in representing how Christ has been part of the bigger story all along.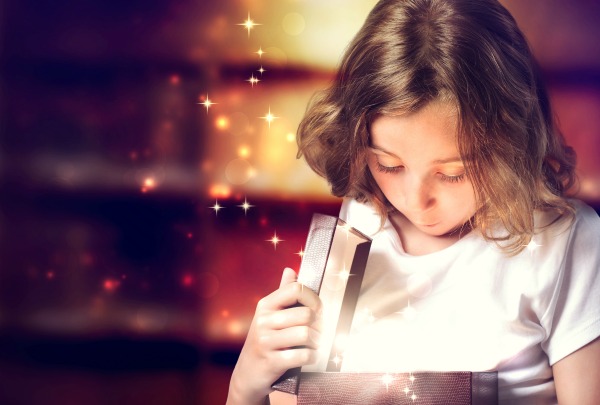 Along with reading aloud from my own Bible, we also adore the Jesus Storybook Bible too. It beautifully illustrates the Christmas story.
Watch a Favorite Christmas Themed Movie
Pop a big batch of popcorn, make some warm hot chocolate, get in your new Christmas pajamas and snuggle up together on the couch and watch a favorite Christmas movie.
I love introducing the classic Christmas movies to my kids each year and The Nativity Story is also a wonderful movie portraying what Mary and Joseph went through to bring Jesus into the world.
Some other ideas, depending on your children's ages and movie preferences:
Sponsor a Family
Christmas Eve is the perfect opportunity to sponsor a family by either taking them a meal or wrapping some Christmas gifts for them.
There is a little bit of planning that goes along with this such as grocery shopping and shopping for gifts or other needs but this is a wonderful activity to do together as a family.
It's especially helpful to teach your children about the joy of giving to others.
Make Dinner Together
Make a low-key meal together as a family.
Some favorite ideas might be individual homemade pizzas, easy crock-pot soups or even simple finger foods set up buffet style for everyone to grab what they enjoy.
Make it super casual by using paper plates so that way you don't have to spend time doing dishes or cleaning up a huge mess in the kitchen.
Christmas Pajamas
Perhaps my favorite tradition of all but I think there is nothing cuter than little children in matching Christmas jammies.
It's a fun tradition many families participate in and the kids get excited about opening a present on Christmas Eve, even if they already know what it is! 
My husband and I have the same pair of pajamas we wear year after year but thanks to growing children, they always have a new set to open every Christmas Eve.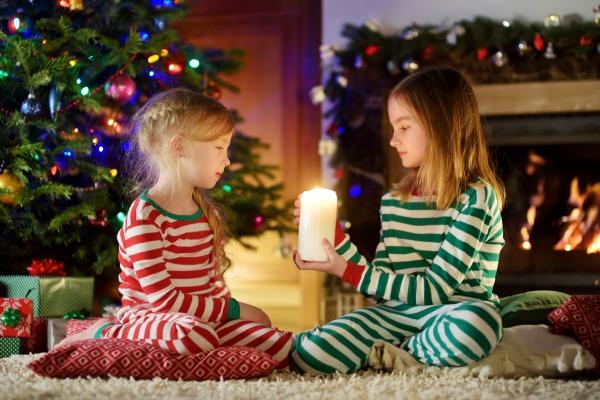 Take Photos By the Tree
While everyone is dressed in the Christmas church clothes or Christmas pajamas, take a family photo by the tree or mantel.
I find it's better to take the picture on Christmas Eve because I always forget to take a good one on Christmas morning.
Each year, I frame the Christmas photo in a hanging ornament that we place on the Christmas tree. I can't wait for the day when our whole tree is full of family photos!
Open a New Family Game
Every year we add a new family game to our collection and Christmas Eve is the perfect time to gift it!
Along with opening their Christmas pajamas on Christmas Eve, we will also open one new family game together.
It's so fun to see everyone gathering at the table together in their Christmas pajamas to play a game!
Some of our family favorite games are:
Write Letters to Each Other
I have written my children letters to them in their memory journals since before they were even born but I love the idea of writing special Christmas blessings to one another, either in their journals or on stationary to give to each other.
I vividly remember one year my mother wrote me a letter and placed it in my stocking for me to open on Christmas morning.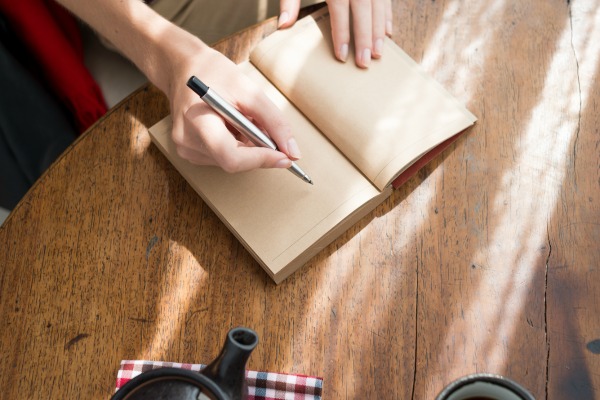 Encouraging your kids to write letters to siblings, parents, or even a Christmas prayer to Jesus could be such a special tradition for older children.
Younger children can color special pictures or decorate some paper to give to a special family member too. Plus the letters would be cherished for years to come as special keepsakes for them.
I do write each of my children a Christmas letter in their memory journals sometime over the holiday season but I do look forward to the day when they are old enough to write on their own.
Look at Photos or Watch a Video from the Previous Christmas
Spend some time together looking through a photobook of previous Christmas celebrations.
My kids LOVE looking through our photo albums and honestly, so do I.
It is bittersweet though, I always get a little teary-eyed when I am reminded of just how quickly they are growing up!
If you record family movies, upload them to the TV and watch them together.
Share their memories of what they remember from last year. Talk about their favorite memories, comment on how much they have grown and matured, and just reflect on how blessed your family is.
Light the Christ Candle
Every Sunday throughout Advent, the four Advent candles of Hope, Joy, Peace, & Love (three purple, 1 pink) are lit as you read and reflect on different parts of the Christmas story found in the Bible.
In some traditions, the Christ candle, which is white to represent the spotless Lamb that has come, is lit.
We light ours on Christmas Eve before bed when the house is dark and the only light comes from the twinkling lights on the tree and the candles glowing from the Advent wreath.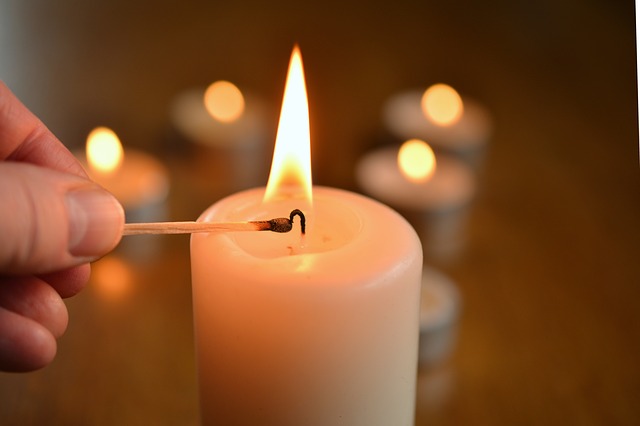 It's a beautiful reminder of the light that comes from Jesus and helps us all to prepare our hearts for Christmas Day.
A Stocking for Jesus
While we don't necessarily do Santa, we do hang stockings to exchange small gifts.
I love the idea of hanging a special stocking for Jesus and filling it with small gifts of letters to Him from each member of the family.
Letters expressing gratitude, letters expressing our devotion to Him and letters to share how we plan to grow even closer to Him in the New Year.
This could even be a great idea to include as a New Year's Eve tradition too!
What are some of your family's Christmas Eve traditions?