Plan your BEST stress-free summer ever & make intentional family time a priority with the 2019 Summer Survival Calendar. It includes everything you need including over 120 activities and a supply list! This is a summer must have...  GET YOURS HERE!*
This quick and easy grilled asparagus recipe is the perfect side dish for all your summer barbeques. It can also easily be cooked year-round on an indoor pan.
I love asparagus. It is the perfect side dish for so many main dishes. Asparagus is so versatile, it can be grilled, steamed, roasted, or marinated with a variety of fresh herbs and spices.
Today I am sharing with you one of our families favorite asparagus recipes, Quick and Easy Grilled Asparagus.

Quick and Easy Grilled Asparagus
Author:
Victoria @ Creative Home Keeper
Recipe type:
vegetable side
Ingredients
1 lb. fresh asparagus
2-3 gloves of garlic, minced
¼ cup balsamic vinegar
2 Tbsp. fresh, chopped parsley
salt and pepper
Instructions
Trim the asparagus ends and place in a plastic zipper bag.
Mince the garlic and chop the parsley. Place in the bag.
Pour vinegar over asparagus. Add salt and pepper to taste.
Zip bag together, and shake to mix all the ingredients.
Let marinate for at least 30 minutes.
Warm up grill or grill pan to medium-high heat.
Place asparagus in a single layer on the grill. Grill each side for about 3-4 minutes, or until grill marks are present.
Remove and serve warm.
Notes
I usually prepare the marinate a few hours before I grill them. The longer the asparagus has time to marinate, the tastier it becomes.
I like my asparagus to be more on the crunchy side, so I don't grill for more than 5-7 minutes. You can grill to your desired preference.
First gather all your fresh ingredients- asparagus, garlic, parsley, balsamic vinegar, salt, and pepper.
After you trim the asparagus, mince the garlic, and chop the parsley, place all the ingredients in a plastic zipper bag to marinate.
Shake the bag well to coat the asparagus. They need to marinate for at least 30 minutes, but I usually marinate them for a few hours.
The longer the marinade has to soak into the asparagus, the more favorable they will be!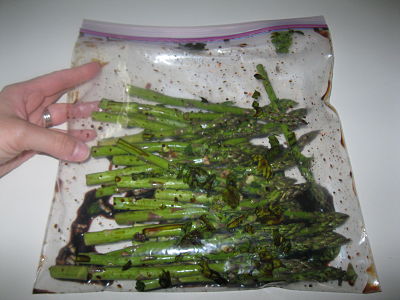 Warm up your grill or grill pan to medium-high heat. Today I used my grill pan because our outdoor grill isn't all the big and we already had the meat going.
Place the asparagus on the grill in a single layer. Grill each side for a few minutes, until grill marks appear, then flip over to grill the other side.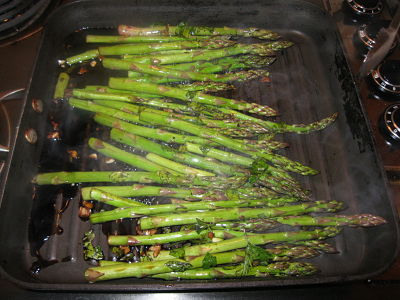 I like my asparagus to be a little bit crunchy, but you can grill them for as long or short, as you like. Remove from the grill and serve warm.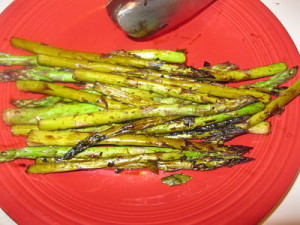 These are the perfect side dish for steaks, chicken, salmon, or whatever protein your family enjoys!
Make meal planning easier with done-for-you meal plans and a variety of recipes that will keep your menu full for years with the Healthy Meal Planning Bundle. Get recipes for every type of eating style for $49.97!
Does creating a Christ-Centered home feel overwhelming?
It doesn't have to be!
Join our community and get the encouragement & guidance you need to find real joy & purpose in your homemaking today! To get started, you'll also get my FREE guide: 10 Easy Ways to Create a Christ-Centered Home!
Plus, when you join the Creative Home Keeper community you will join over 5,000 other women (just like YOU) who are becoming equipped to create a Christ-centered home and are transforming their hearts towards homemaking once and for all!
*By joining the Creative Home Keeper community, you agree to our Privacy Policy.