The Simple Beauty in Setting the Table
This year let's create a haven at home with the 52-week home project. Small, managable weekly tasks and challenges to create a space that promotes peace, inspires creativity, nurtures your family and is not only more organized but also runs with more purpose and intention.
To catch up on all the previous projects, head here. 
Last Week's Project
The kitchen or dining room table serves many purposes but the main being a place for the family to gather around to share meals together. Often times those tables can become dropping zones for any number of different things, none of which actually belong on the table.
Paper piles including bills, homework, mail, craft supplies and random books can quickly pile up taking precious space. Toys or children's items can be left behind. No matter what it it, the kitchen table easily attracts the clutter.
Setting the table is a simple act of hospitality for those you love the most. What if instead of having to clean off the table before you sat down to eat, it was already simply set? What if instead of being a cluttered, uninviting mess, it was transformed into a welcoming spot that invites you to sit down and enjoy a meal, or a pot of tea, with those you love?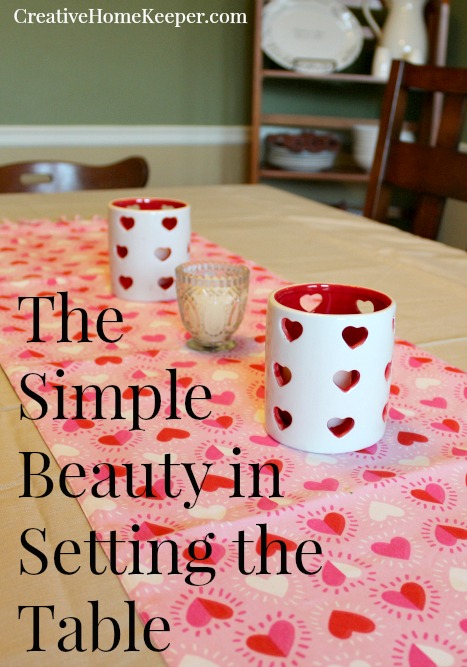 This week we are going to focus on creating a welcoming spot to gather around each day, whether it's your kitchen table or dining room table.
Project #3
: Set the Table
Clear off the table. Remove everything off the table including clutter that doesn't belong as well as centerpieces, table linens and other items would normally keep on the table.
Clean the table and chairs. Using warm soaping water, or a gentle cleaner (make sure whatever you use is safe for the wood or materials your table and chairs are made of), wipe down the entire surface. Get under the table and clean there as well. Don't forget the table and chair legs too! You might just be amazed at all the hidden gunk!
Launder any table linens. If you use tablecloths, placemats, chair cushions or any specific table lines on a regular basis, clean them. If they are safe for the washer, throw them in on the gentle cycle. If the table lines are worn, stained or heavily used, make a plan in your budget to replace as needed.
Do something with the clutter. If you had to remove a large amount of clutter, sort and organize those items. Put them back into their proper location and throw away any trash.
Create a tablescape. If you use a tablecloth, place it back on the table. Same with any placemats, seat cushions or table linens that you use on a regular basis.
Decorate with a seasonal centerpiece. Make your table feel warm and welcoming with a little decorative touch of the season. It could be as simple as a small candle with a few embellishments or an elaborate centerpiece. Shop your home for simple accents that can grace the center of your table.
Inspiration
Creating a well set table of centerpiece doesn't have to be fancy or elaborate. In fact, it doesn't even have to cost you a penny! Just a quick look around your home can yield several options for a beautiful and inviting table for your family to gather around.
Here are some of my favorite ideas and things I use to add a little something special to my table"
Fill a large decorative glass bowl with ball ornaments (for Christmas),
Fill a large decorative glass bowl or basket with fresh fruit such as oranges or lemons for winter and spring or apples for fall.
Pick fresh flowers (gulp… or you can even use FAKE, I promise I won't tell!) and place in your favorite vase.
One a plate put a few small candles or tea lights and fill in the remaining space with small rocks or pebbles from your yard.
Place a favorite inspirational Scripture in a small decorative frame.
Arrange a candle in a bowl or basket and fill in with potpourri or natural elements from your yard.
Place a candle in a tall hurricane holder and fill with jellybeans for spring, red and blue M&Ms for summer, popcorn kernels for fall or crushed candy canes for Christmas.
Find a large branch in your yard and anchor it in a tall vase. Decorate with small paper hearts for Valentine's Day, paper snowflakes for winter, paper flowers for spring or summer and paper leaves with daily blessings written on them for Thanksgiving.
The options for simple, creative and beautiful table decorations are endless and really don't have to take a lot of effort!
My Progress and Results
Before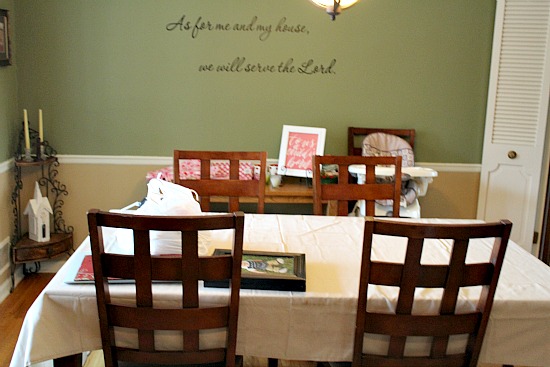 In our house we use our dining room for meals. We do have an area in our kitchen for a table and chairs but currently it is a playroom for the kids with a little kid table set up for quick meals for them or for arts and craft projects that get a little too messy for the dining room.
Even though we eat at our dining room table for every meal (with the exception of breakfast) it can quickly become a decluttered mess when I set random items down and forget about them.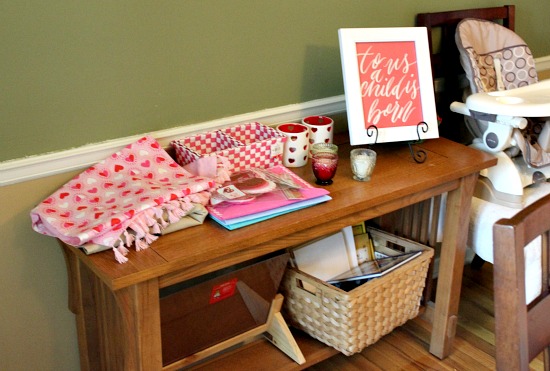 Behind our table we have this small buffet style table that I usually have decorated a little nice but since taking down the Christmas decorations, I hadn't taken the time to really do anything nice with it. And you can see I still have a Christmas print out!
Under the table is where I house our simple preschool materials in a basket and a portable dry erase board.
Our table isn't really too bad, just random items left out from when I cleaned out the hall closet last week. I also need to wash and iron our tablecloth too!
After
The clutter is gone, the buffet table is decorated and I have a simple, seasonal centerpiece for Valentine's Day set up in the center of the table. I also washed the tablecloth but forgot to iron it! 😉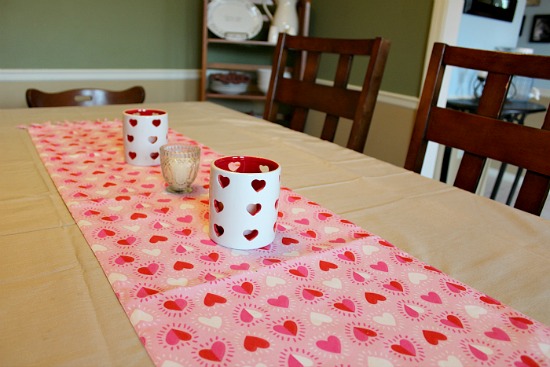 I like creating simple seasonal centerpieces to add a bit of warmth and a festive atmosphere to the table. I found these write votive holders with heart cutouts from the Target Dollar Spot. I knew I had small candles to fit inside, as well as a small decorative glass candle holder to place in the center. This cute heart table runner is both festive and practical. One side is printed with hearts but on the other side is solid light pink which I can flip over after Valentine's Day to use with my Easter and Spring table decorations.
On the buffet table I removed all the extra clutter and filled the table with our vase of silk flowers (those are from our wedding), a small wooden cross, two more small decorative candles and favorite baby photos of the children. The blank frame will our Jack's photo that I have ordered, it just hasn't been delivered yet.
It's simple, festive, warm and one of my favorite spots in the house. Not only do we gather around the table for our family meals, but it's also where I come in the morning to read my Bible and drink coffee. Occasionally I will even set my laptop here to work because the light is much better.
A New Project for a New Week
Each week I'll share a new challenge to help us tackle one small area of our homes.
Some weeks it might be a deep cleaning task, some weeks it might be a decluttering task, some weeks it might be a challenge to help you create a space you love, and some weeks it might be a combination of a few different challenges.
The goal for the 52-Week Home Project is to have a home that is not only more organized but also runs with more purpose and intention and just feels more peaceful and calm.
The Next Project
Sometimes the clutter around your house is too much and requires a simple sweep through before you can even begin the real work of decluttering and organizing.
Countertops, desks, dressers and other hard surfaces are notorious for being catch all spots for all those odds and ends that you don't know what to do with, you need to throw away but aren't ready or just don't know what to do with. Or maybe you have a closet or shelf where you stuff things that you don't want to deal with but really just needs to go.
This week just give yourself permission to walk through your home and get rid of the junk and stuff that really has no value and just needs to go. This week take the Big Box Challenge (or bag challenge if you don't have a cardboard box handy!) 🙂
Project #4: The Big Box Challenge
Gather a large box, preferably a cardboard one so you don't have to empty the contents before you donate. If you don't have a large box, use a trash sack.
Set a goal of how many items you would like to collect. This could be something like 5 items per room or even 7 items a day. Be specific for your home and decluttering needs.
Walk through your home room-by-room. Give each room a scan and place items you are ready to depart with in the box. Don't think too hard about this, just gather those items that are no longer being used, enjoyed, or played with. It's best to get your family's input on this too, don't discard belongings that belong to others. If you have young kids, make a game out of it but really explain to them that what they place in the box they won't have anymore.
Sort through the box to throw away any items that aren't in good condition to donate.
Place the box in your car to drop off at your nearest donation center. If you don't have one nearby, schedule a pickup with a local charity. Don't let the giveaway box remain in your home, it will only add more clutter or you may even be tempted to go through it again to "rediscover" items. It's best to just part with it as quickly as possible.
Next Sunday I'll share my progress as well as give our next challenge in the 52-Week Home Project so be sure to stay tuned.
Missed a project in the 52-Week Home Project? Head here to see the complete list of all 52 projects!
How did you do with your 52-Week Home Project this wee? Share your results in the comments below, including a link to your blog post or photo you shared on Instagram, Facebook or Twitter with the hashtags #The52WeekHomeProject