5 Steps to Hosting a Simple & Intentional Thanksgiving Dinner
Hosting Thanksgiving this year? It doesn't have to be stressful, in fact with a little planning and prep, your Thanksgiving celebration can be effortless and stress free!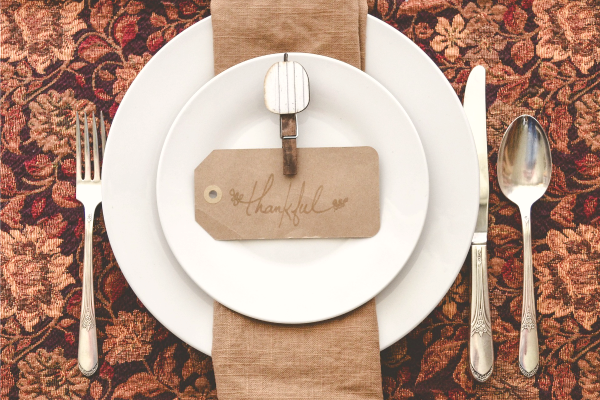 Can you believe we are in November already? This also means that my absolute favorite holiday of all, Thanksgiving, is just a few weeks away! Whoo-hoo!!!!
I love Thanksgiving for all of the reasons I shared here.
It's a special day to spend with your loved ones feasting on great food, enjoying wonderful fellowship and acknowledging all of the blessings we have received.
Thanksgiving is also a pretty big meal to plan and make, especially if you are hosting.
There is a lot of prep work that goes into it but if you spend a little bit of time planning today, you'll be ready for the big day with no stress!
5 Steps to Hosting a Simple & Intentional Thanksgiving Dinner
Plan Your Menu
With about four weeks away, now is the perfect time to sit down and create a plan of what you will serve if you are hosting.
Write out all the dishes, even if you aren't making them all.
Include the main dish, whether that be turkey, ham or whatever your family serves, all of the sides and appetizers, and of course the best part of the meal… the desserts!
If others are helping you prepare the food, now is the time to let everyone know what you would like for them to make.
This gives everyone plenty of time to plan and prepare too. If you are attending a Thanksgiving dinner, ask the hostess what you can bring, whether that be food, paper goods, drinks or even decor.
Do you need a little help planning your Thanksgiving dinner?
Check out the Your Intentional Holiday Toolkit with resources and printables to plan for every single holiday and season for the year…. including a special holiday meal planner just for thanksgiving!
Write Out Your Grocery List
Once you have your meal planned out, write out your grocery list of every single ingredient you will need.
I like to make my list based on how my grocery store is set up (you can find this in the Your Intentional Holiday Toolkit).
This master list will help you stretch your budget because many grocery stores already have many items on sale.
In fact with the exclusion of fresh produce, you may very well be able to stock up on all your cooking and baking supplies over the next week or two!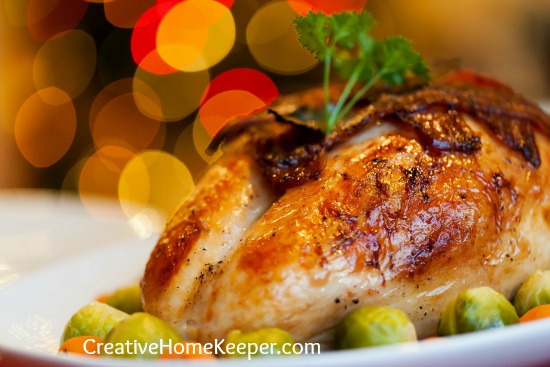 I like to sit down and plan for both Thanksgiving and Christmas at once so I can create a master list of everything I need to cook and bake with over the next two months.
This way when I sit down with my grocery store's weekly ad, I can start knocking items off my shopping list!
Plan Your Decor
Do you keep things simple or do you go all out?
Do you like to make personalized place cards and tablescapes or do you just use basic table linens?
Thinking through your decor now will give you plenty of time to make sure you have all the supplies and time you need to make or purchase something.
Sometimes we have the best intentions but if we don't make a plan, our crafts or decorations never get accomplished.
And don't just think about crafty decor items either. Do you have or need a tablecloth? Napkins? Candles? Most of those things are on sale now, especially as stores are trying to remove their fall decor to make room for Christmas.
Set Your Table
A few weeks out is also a good time to make sure you have enough serving dishes, place settings, glasses, and silverware.
There is nothing worse than trying to set the table on Thanksgiving only to realize you are short a few plates or glasses.
For the record, it doesn't have to be fancy either!
If you have heirloom china and you love to use it, set it out. If you are fine with everyday tableware, set the table proudly.
I have hosted and have been to many a meal where we enjoyed a fun and festive meal on mismatched plates. Honestly, unless you make a big deal about it, chances are your guests won't either.
Serving dishes are always something it seems like we come up short on, so now is the time to make sure you have enough large platters, bowls, and plates to serve all that yummy food!
Think About Your Traditions
Finally, if you haven't already done so, think through your Thanksgiving traditions.
What are some things you and your family do every year?
Do you watch the Macy's Thanksgiving Day parade together in your PJs?
Do you play a rousing game of football?
Do you sit down and plan out your Black Friday shopping trip?
Do you play any games during dinner or afterward?
Do you watch Christmas movies once the table is cleared?
Take a few minutes and think through the traditions that make the day so special and unique to your family.
Include them in the conversation too! What does each of your children look forward to the most? Do they want to help you cook this year?
It's best to include everyone in the conversation to make sure a little part of all their desires are included.
---
Need help in identifying what traditions are important to your family?
Check out the Holiday Heart Prep Kit!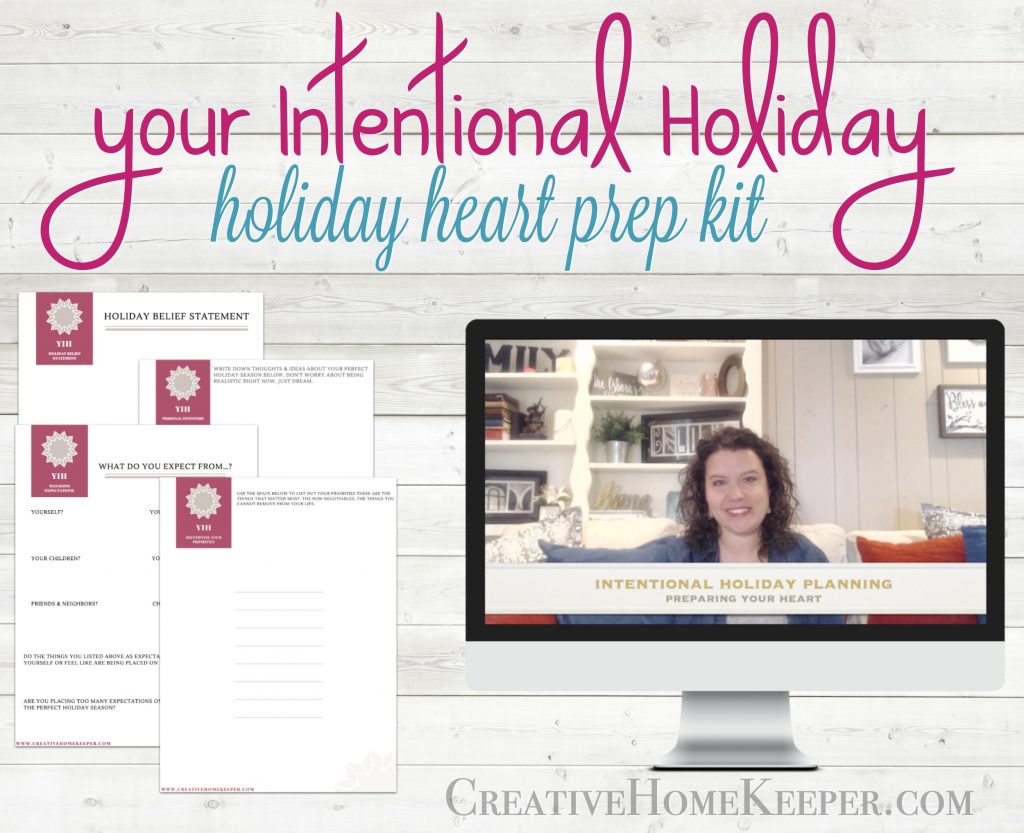 ---
What are some things you do to help make your Thanksgiving simple and intentional?