A Star from Afar: An Advent Activity to Celebrate the True Meaning of Christmas
Advent is coming…. and I couldn't be more excited!
I love the privilege we have as parents to help our children plant seeds of faith and water those seeds all year long but something about this time of year really creates an urgency to grow more in faith, love, and knowledge.
Sadly, though it's hard to enter the Christmas season with undivided attention.
From commercials advertising the latest must-have toys to decorations popping up way before what was once considered socially appropriate and to that jolly old man in the red suit dominating most of our children's conversations beginning the day after Halloween, our children's hearts and minds are pulled in all different directions.
Now to be clear, I enjoy the gift giving and receiving aspect of Christmas, as well as all those beautiful decorations, most notable are the twinkle lights, and I even have a special spot in my heart for jolly old St. Nicholas… but I want my children's hearts to be focused on the true meaning of Christmas too.
Which is why I enjoy Advent so much!
In the midst of trimming the tree, shopping and wrapping presents, visiting Santa at the mall, and driving through the neighborhood looking at Christmas lights, we have a built-in teaching opportunity to share not only the love of Christ with our children but to also help them to understand why we celebrate Christmas, to begin with.
[clickToTweet tweet="We have a built-in teaching opportunity to share Christ & why we celebrate Christmas w/our kids" quote="We have a built-in teaching opportunity to share Christ & why we celebrate Christmas with our kids"]
Advent activities in our house include beloved traditions, but this year we are introducing something new and I think my kids are really going to love it.
I think yours will too! 😉
Recently I received A Christmas Star from Afar in the mail and before I even pulled out the pieces, my heart began to swoon.
The Christmas Star From Afar is a game that celebrates the TRUE meaning of Christmas by encouraging children to go on a hunt for their Star, similar to that of the Wise Men.
Every day the Star is hidden and the children participate in a fun hide-and-seek game to locate it. Once they have found their Star they move all three wise men to its location. On Christmas morning the three wise men reach their destination when the star is found in the stable with the newborn baby Jesus.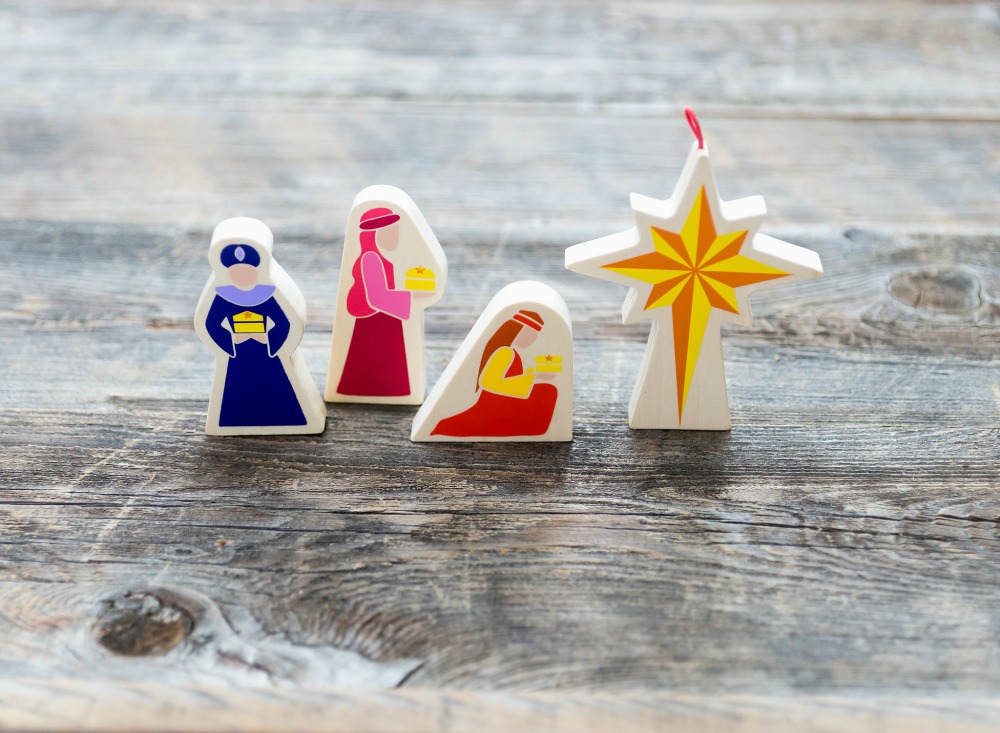 The activity kit includes a wooden star, a full wooden nativity scene that matches the artwork of the book, and optional scripture to use throughout the month. It also comes in a beautiful box to store the treasured pieces away.
The quality of the entire kit is breathtaking!
While I love how beautiful the wooden figures are, perfect for little hands to play with and discover, I am most excited about the gorgeously illustrated hardback book.
It will be a treasured Christmas classic that we will unwrap the first day of Advent every year!
We naturally incorporated this into our simple & meaningful Advent plan and every single morning when my kids came down for breakfast after waking up, they immediately began looking for the star. In fact on their way to bed the other night, my oldest said, "Don't forget to move the star mom so we can find it in the morning!" 🙂
This is a great alternative to those who don't want to do the Elf on the Shelf but still want to build excitement and anticipation leading up to Christmas day.
Along with looking for the star every morning, they LOVED playing with the nativity set on the table.
If you are looking for a beautiful and high-quality nativity set, storybook, and a meaningful tradition your family will love, look no further than The Christmas Star From Afar!
Each set includes:
Beautiful storage and gift box
Hardback, beautifully illustrated storybook that also includes additional Scriptures to read during Advent
Complete, wood Nativity set
You can purchase your Christmas Star From Afar Kit here.
***I received a complimentary edition of The Christmas Star From Afar in exchange for my honest feedback. All opinions are 100% mine and I only promote products I genially love. You can read my full disclosure policy here.