Family Traditions Journal: Preserving Memories One Word at a Time
Want to slow down time and preserve memories in a unique keepsake your family will cherish for years to come? A family traditions journal is like a photo album filled with precious memories but instead of being filled with pictures and photographs, it is filled with words and it's so simple to start and maintain!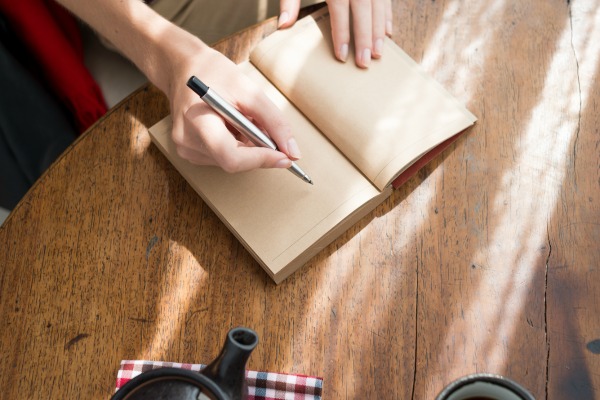 Recently I was sitting with my grandmother in her living room as my children were running with reckless abandonment through her home. Something about the plush carpet that covers her floors versus the cold, hardwood floors we have.
My children are so blessed to have to opportunity to have weekly visits with their great-grandmother but if you asked her, she would tell you she is the blessed one. Either or, our family has a true cherished jewel in our family.
She has lived through wars, uncertain times, seasons of plenty and seasons of wants. She cared for her husband, my grandfather, for many years before he finally passed on to Jesus. She has to watch her own son, my father, grieve the unexpected and traumatic loss of his son, my brother. Many years later when my father passed away, she had to lay to rest her youngest son, her baby.
I can't imagine the heartbreak she has had to endure over the years, but she remains a strong pillar in our family. An example of strength and grace, and weekly I bring the children over to her house, or to invite her out of the house, she comes and spends an afternoon sitting in the chaos (not to mention unclean!) of my own home.
Never one to judge or tell me how I should be raising my family, she just sits and delights in this time. Every week she shares memories, recent or from the past. She tells stories of her younger days or happy memories of watching my own crazy kids run around her.
My kids LOVE her, and the feeling is mutual.
The tendency for me is to sometimes view her visits as an opportunity for me to get things done, to clean a well-needed area, to fold a basket of laundry, or to type away the words so desperate to come out on the computer, but I try to push away those urges to sit with her for awhile and listen.
She reminds me to slow down, to cherish the mundane, and to love well.
I'm not always good at fighting the urges to get up and "do something" but when I do just sit there and listen, I'm reminded of so many rich blessings.
As she tells story after story of her past, I am filled with awe of remembrance of how certain aspects of traditions in our family have been webbed together over the years. I am reminded of events and dates of my youth, or from my father's childhood.
I want to sit and soak up every story of my grandmother's and I wish she had kept a written account all these years of her family traditions and memories. What a gift that would have been to pass down?
Then I am reminded that it's not too late.
It's not too late for me to write down those memories, or the traditions of my own family.
When I started my children's memory journals, it was a way for me to remember various aspects of my pregnancies and baby growth development. They have since morphed into something entirely different.
Letters and prayers are written to all my children on various dates throughout the year. Funny sayings, cute antidotes or milestones I don't want to forget. It's like a photo album filled with precious memories but instead of being filled with pictures and photographs, it is filled with words.
As I've been sitting with grandmother listening to her stories, the idea of writing down family traditions has been impressed on my heart. To begin collecting stories of our own family, and keep them in a Family Traditions Journal.
Have you ever really thought through why your family celebrates holidays and events in the way you do? What about everyday traditions and routines, the simple things you do as a family that our sacred and familiar?
I've only just begun this process, but I am already filled with so many memories and am so glad I've begun to write them down.
Starting a Family Traditions Journal
Starting your own Family Traditions Journal only requires three things:
a notebook or a journal
a pen
and a reflective heart
I chose a larger college ruled notebook with 5 segments for different subjects. I divided those subjects up into different seasons or holidays:
Birthdays & Special Days
Christmas
Winter
Spring & Summer
Fall
To keep it simple, I simply wrote the title and a small note on the first page of each segment to denote what memories would be included. Then I just sat down one afternoon and wrote down anything and everything I could think of.
From simple traditions of how we celebrate birthdays and other special days, to our intentional Advent activities we do every year, I wrote down summarized notes of all the traditions we have carried out as a family thus far.
My children are still young, so it only took me about 30 minutes to sit down and write out our family traditions in our notebook but I am already so glad I have begun this process. Writing them down helped remind me of what is important and what our family has chosen to emphasize.
Start Small & Keep It Simple
If you are just starting out and have many years behind you, start small and keep it simple by focusing on the current season. Instead of trying to remember every single tradition on one sitting, space it out over the year.
For example, right before you begin planning for Christmas, sit down and record any traditions from previous years your family has grown to love. Write down the everyday moments to the bigger family events that go hand in hand with the season. At the end of the season, sit down again and reflect over the previous few months. Re-read what you've already written down and add in any new memories or traditions from your family.
Repeat this process throughout the year, taking just a few moments at the start of each holiday season or at the beginning of every month, and just think through your cherished family memories and traditions and write them down.
At the end of the year, you will have a well-established keepsake you will continue to build on for years to come!
Think about what a special gift this will be to your family, as you reflect year to year and one day pass it down to your children and grandchildren.
Make It a Family Affair
Sometimes the burden of preserving family traditions fall on us, fellow mamas, but getting the whole family on board is such a great way for everyone to take ownership of the traditions and rituals that make up your family.
Have them share their memories or accounts. If they are old enough, encourage them to write them down in the Family Traditions Journal so it truly is a remembrance of every family member.
Sit down together as a family at the beginning of every season to review and plan ahead. Share those precious memories and communicate how those beloved family traditions began and why you continue to embrace them.
I've only just begun the work of filling out our own Family Traditions Journal but I am already reminded of the blessings from our family.
I've been writing in stories from listening to my grandmother and writing down simple, everyday ordinary occurrences that happen in our family, along with the bigger seasonal traditions. I look forward to adding to it over the coming years and one day passing along a treasured keepsake to my own children and grandchildren!
Have you ever considered starting a family traditions journal?
I believe you can have a thoughtful, peaceful, joy-filled and intentional holiday season keeping your focus on what truly matters.
This is why I'm so excited to share with you the brand new freebie that is now available called Your Intentional Holiday: Heart Prep Kit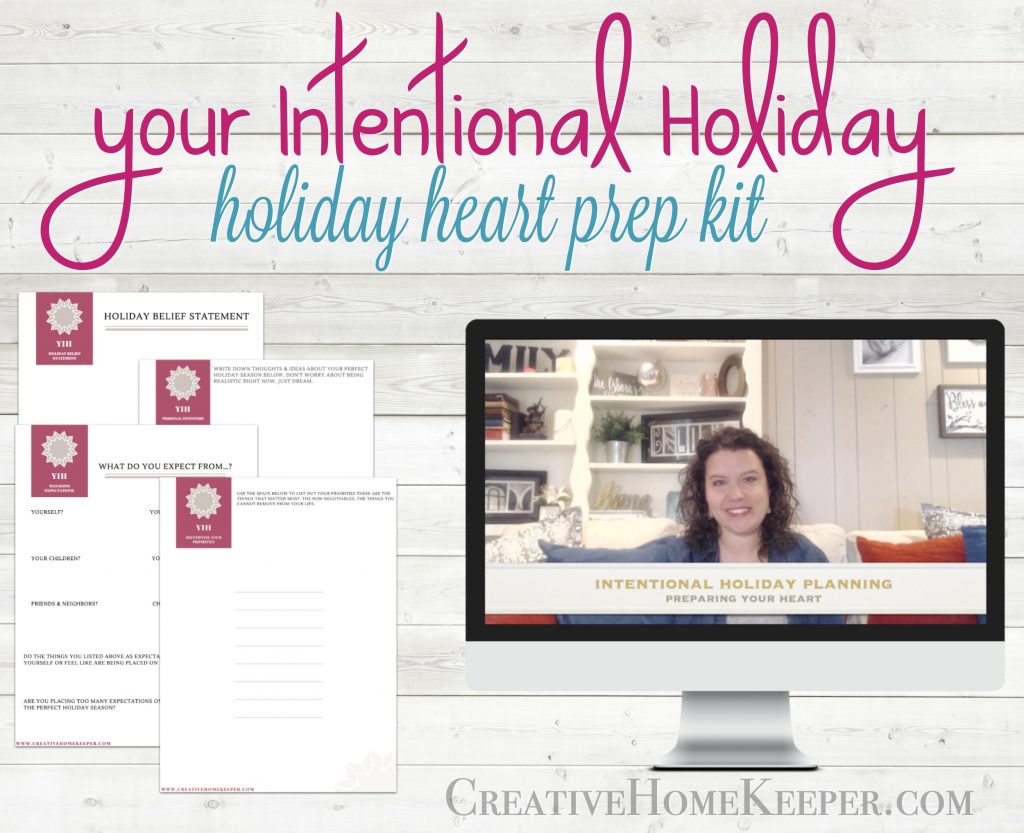 In this FREE Holiday Heart Prep Kit, you will:
Identify your priorities
Complete a personal inventory to see what matters most
Manage expectations you have set for yourself
Recognize why you celebrate the holidays
Create a holiday belief statement that will guide you and your family to make sure you are spending time on the activities that matter