Fridays are probably one of the most popular days of the week. A long week is finally over and the gentle rest of the weekend calls your name.
Friday's welcome the completion of the work week and an end the normal daily to-do list. While weekends certainly can be filled to the brim with activities, for most of us the weekend brings rest, quiet and a chance to re-charge.
In my journey to wellness this year, I'm seeking to end my weeks on a positive and reflective note. Enter in the new Friday Devotions. A place for your weary soul to come and be reminded of God's truths and promises.
Let's end the week well by meditating on a small passage of Scripture and letting God's Word take hold of our hearts and minds.
Blessed is the man who walks not in the counsel of the wicked, nor stands in the way of sinners, nor sits in the seat of scoffers, but his delight is in the law of the LORD, and on His law he meditates day and night. He is like a tree planted by streams of water that yields its fruit in its season, and its leaf does not wither. In all he does, he prospers. The wicked are not so, but are like the chaff that the wind drives away.  ~ Psalm 1:1-4
My newly turned one-year old still wakes up regularly at night, sometimes more than once too. In this sense he has been one of my most difficult babies, yet at the same time I'm relishing this midnight feedings.
He'll sleep through the night soon and will have no further need nursing from me. While I will enjoy my sleep I will also miss the cuddling and snuggling that comes from those late nights.
There is nothing more sweeter than a warm, sleeping baby on your chest. The comfort from holding my baby rocking him back to sleep as he drinks is a reminder of God's love for us.
When I'm in His Word, drinking in His truths, I'm being filled up.
The tree in Psalm 1 is a rooted tree. It's roots digging deep into the soil drawing water from the stream.
Have you ever seen tree roots? They are quite majestic, the way they tangle and curl around one another deep in the earth.
I love this image as it comes to mind when I'm reading Scripture and am reminded of the lifesource of God's Word. We are like that tree, rooted deep in the ground so it doesn't leave it's lifesource.
If the tree where to lose it's connection to the stream of water, it would wither up and die. The same is true with us.
The tree and the stream are in relationship with one another. The stream provides the life giving waters to the tree so that it may grow and prosper and not not wither up.
The same is true for the milk my baby drinks. It's his lifesource as well.
Our lifesource is the Word of God.
We need it to live. God designed us to need Him, to be in fellowship with Him as our only source of life. And just as the tree mentioned in this Psalm, when we drink from the living waters, we bear fruit, we are nourished and we grow.
This is why it's so important to be in God's Word daily. As I mentioned last week, it doesn't necessarily have to be in the morning (although that's my preferred time) but when we discipline ourselves to go to the Bible and let it fill us up, the fruit becomes evident.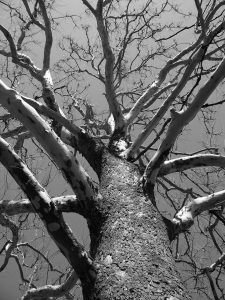 Regularly spending time soaking in the truths and promises found in our Bible helps us through the rich seasons, as well as the dry seasons. You know those dry seasons will come, they sneak up on us.
Sometimes they come in traumatic events such as loss but more often they come in small ways. But no matter how they come, when those seasons of desperation and loneliness come we have confidence to know that He fills our cup and replenishes our weary souls.
Even in those dry seasons, our roots are still firmly planted in the depths of His unending goodness and love.
How have you been drinking from the living waters recently?