September Family Connections Calendar
Draw closer as a family this summer with the September Family Connections Calendar and Scripture reading plan. Each month includes simple and easy ways to connect as a family as well as a Scripture plan to read aloud together.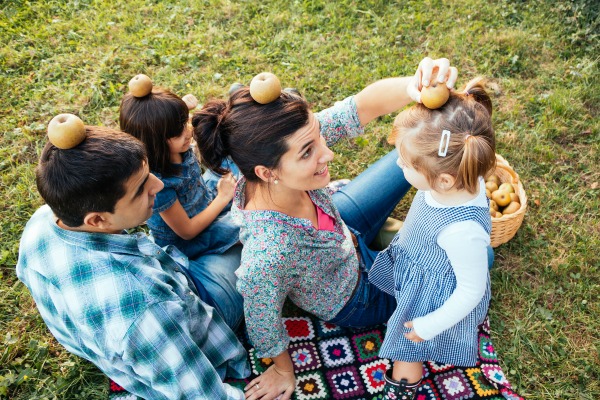 September ushers in the first of the final four months of the year, the 4th quarter if you will. And as I always love to say, it's the -BER months that are the best of the entire year! (the months that end with -ber) 🙂
This month's September Family Connections Calendar is filled with plenty of activities to end summer officially, kick off the start of the school year, and welcome in early fall activites.
Each month, you will receive a calendar with thoughtful, yet intentional, activity ideas for your family that doesn't require much preparation and are almost always free!
You can view January's calendar here, February's calendar here, March's Calendar here, April's Calendar here, May's calendar here, June/July here and August's calendar here.
You will also receive a Scripture reading plan to read aloud one chapter from a specific book of the Bible together.
Let's take a closer look at each of these calendars:
Family Activity Calendar
Included in the activity list are seasonal appropriate ideas as well as conversation starters to have at mealtimes.
These are simple and easy activities to do with your family no matter what season or stage you are in. They can also be adapted to meet the needs of your specific family.
Don't have kids or are an empty nester? Connect with your spouse with some of these ideas!
Have itty bitty little ones? Older children or teens? There are plenty of ideas that appeal to all ages!
Are you single? Grab a friend or serve your neighbors and family with some of these ideas!
The best part of this calendar is that it is designed to help you and your family better connect this year. So whether you do 2 things off the list or all 31, the point is that you are being intentional!
How to Use
Print off the list and stick it on your refrigerator or place near your family command center. Go through the list today and pick at least 5 activities and schedule them on your family calendar.
Almost all of the ideas are free or require things you probably already have on hand in your home. Some do require a little bit of preparation and making room in your calendar but get your family on board to help with the planning!
You can also just pick and choose the activities that best fit into your family's schedule and routine. Maybe this list even gives you some new ideas!
Make this connection calendar work for your family and watch how just a few simple activities can really draw your family closer together!
Family Scripture Reading Plan
Perhaps the best way you can connect as a family this year is to spend time reading the Bible together.
Last year one of my favorite books I read was a simple account of a mom starting the practice of reading aloud her Bible to her young kids.
Not a children's Bible but the actual Word of God.
The results were profound and it seriously convicted me to read the Word aloud to my kids too. But sometimes the hardest part is knowing where to start.
This family reading plan makes it simple for you!
Each day you only have one chapter to read aloud. That's it!
Five days of chronological Scripture reading with a selected Psalm or Proverb for the weekend and a built-in Grace Day because we all know life is unpredictable and busy!
How to Use
Print off the Family Scripture Plan and place in your family Bible, your Bible book basket, or somewhere you and your family will see every day.
Pray together as a family before you read the Bible aloud and then just read.
If your children are old enough, take turns reading aloud or you can even use the YouVersion Bible app to listen to Word if reading aloud is hard.
Both the Family Connections Calendar and Scripture Reading Plan are free to download when you sign up for the email list and then once a month, the new calendar will be delivered straight to your inbox!
[convertkit form=5129545]
I pray these simple ideas and passages from the Bible help draw you and your family closer together this year as well as water those seeds of faith.
Here's a peek at September's calendars:
Scripture Family Reading Plan
We will finish reading Paul's letters Titus through Philemon before heading back to the Old Testament to start reading 1 Samuel. On the weekends we will read through Psalms 36-40 on Sunday, with Saturday being a Grace Day to catch up or to reflect on the previous week's readings.
September Family Activities & Discussion Questions
Now that school has been in session for a few weeks, review the fall calendar and goals as a family to see if it still lines up to your values and still provides plenty of family time.
Host one final summer BBQ in your backyard. Invite some family and friends over, grill some hot dogs, and celebrate the unofficial end of summer.
Labor Day After a busy summer, spend the day at home, resting by reading, cuddling up on the couch, having a family movie day, or other restful activities
Mealtime Discussion Question: How can we lean on Christ to provide us with real rest as we tire out this year?
Write in one child's memory journal or write a letter to a family member.
National Read-A-Book Day Have a family read aloud or read-a-thon with family favorite books.
Purchase or make special cards and letters to send to grandparents or a special elderly mentor.
Spend the day working outside and cleaning up the yard and flower beds. Plant some fall flowers to replace the summer flowers. If time allows, mow an elderly neighbor's yard.
Grandparent's Day Invite a grandparent or an elderly couple to lunch after church.
Do a quick house walk-through to get rid of any clutter and making a list of any home projects that need to happen this fall.
Patriots Day Deliver thank you cards or cookies/sweet treats to your local Fire or Police Departments.
Pull out some apple-themed fall decor items to add a small touch of fall or place fresh apples in a bowl for a simple and delicious centerpiece.
Mealtime Discussion Question: What is one subject in school or activity that is really going to challenge you this year? How will you preserve?
Attend a local high school football game to cheer on the hometown team (or have a binge-watch session of Friday Night Lights on Amazon Prime).
Plan a family fun apple picking day at a nearby orchard.
Serve together as a family in your church nursery, Sunday school classroom, on the hospitality committee, or wherever your church has a need.
Constitution Day Check out age-appropriate books that teach about our country's constitution, how it was written, and what is included today.
Spend the day intentionally taking real-life photos to capture those precious everyday moments.
Mealtime Discussion Question: What is one thing you are going to do to build up your friendships this year?
Go on an evening walk together as a family, take note of any signs of fall and seasonal changes.
Invite a family or friends over to dinner.
Serve together as a family at a local food pantry, shelter, or community center.
First Day of Autumn Pull out all of the fall decorations to give welcome in the new season and make a fall bucket list of activities
Write in one child's memory journal or write a letter to a family member.
Mealtime Discussion Question: What are you most looking forward to this fall?
Johnny Appleseed Day Make homemade cinnamon apples to enjoy and make your whole house smell divine.
Plan a date night with your spouse. Arrange for childcare and hit the town with your favorite person!
Make homemade pizzas at home tonight, let each of your children invite a friend over to make and enjoy pizza night!
National Coffee Day Make homemade Pumpkin Spice Lattes (with real pumpkin puree)
Sort through all the photos you took this month and print off the best ones to place in a photo album or digital photobooks like Chatbooks or Shutterfly.
How are you planning to better connect as a family this year? 
Pin It!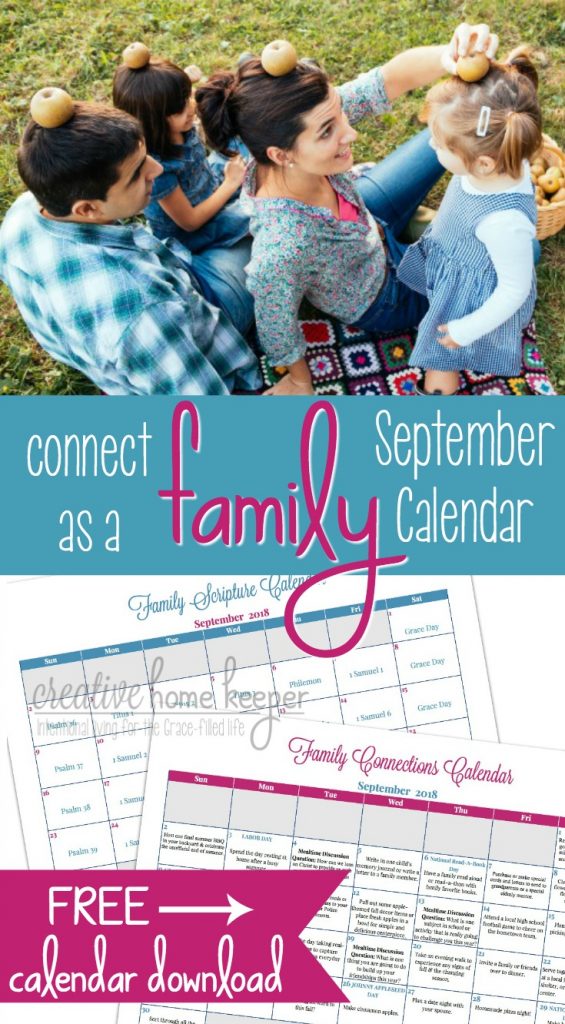 Sign up below to receive your free monthly Family Connections & Scripture Reading Plan delivered straight to your inbox each month for the entire year!