What is a Creative Home Keeper? (Part 1)
Welcome to Creative Home Keeper. My goal is for you to find practical and easy ways to live simply, intentional, and inspired in all of your home-keeping glory!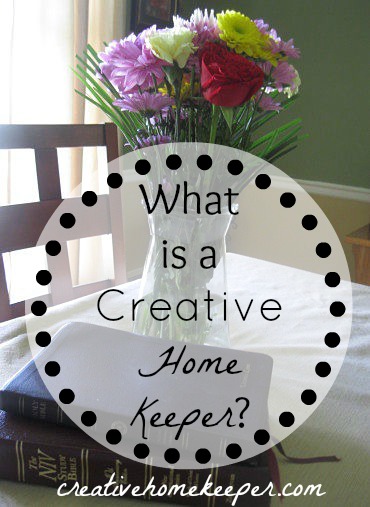 To see all the posts in this original series click here.
To start off this new series, I would like to answer the question that you might have:
"What is a home keeper?"
You may not be familiar with the term home keeper, but I'm sure that you have heard of house keeper and homemaker.
A house keeper is an individual who is usually in the home for a longer period of time and may have many projects within the home to keep busy. (Does that sound all to familiar?!?!)
A homemaker is a person who manages a home. A person whose main job is to take care of her own family and children.
So house keeper and homemaker pretty much go hand in hand, they basically mean the same thing. But what about the term home keeper?
Let's take a look at what God's Word tells us about this subject. In Titus 2:3-5, God gives us a clear definition of the responsibilities we as women have. Let's take a look at a couple of different translations to get a full picture.
NIV– Likewise, teach the older woman to be reverent in the way they live, not to be slanderers or addicted to much wine, but to teach what is good. Then they can train the younger women to love their husbands and children, to be self-controlled and pure, to be busy at home, to be kind, and to be subject to their husbands, so that no one will malign the word of God.
ESV– Older women likewise are to be reverent in behavior, not slanderers or slaves to much wine. They are to teach what is good, and so train the young women to love their husbands and children, to be self-controlled, pure, working at home, kind, and submissive to their own husband.
KJV– The aged women likewise, that they be in behaviour as becometh holiness, not false accusers, not given to much wine, teachers of good things; That they may teach the young women to be sober, to love their husbands, to love their children,To be discreet, chaste, keepers at home, good, obedient to their own husbands, that the word of God be not blasphemed. that the word of God may be reviled.
Busy at home, working at home, keepers at home
The Greek translation of the KJV keepers at home translates to mean dwelling and to guard. Meaning that a woman is to guard her dwelling. The practical translation:
Women are to be fully aware of all the activities that go on in the home.
Women set the tone of their homes. Women provide structure, routine, stability, peace, safety, a place of comfort, and so much more.
Does our Biblical calling from the Lord overwhelm you? It does me, to be honest. That is a lot of responsibility, but thankfully the Lord provides us with creativity to use all of our God-given gifts to nourish our homes and families.
Tomorrow we'll dig deeper into our roles as women to be home keepers. Stay tuned!