Live Original Prayer and Inspirational Notebook
If there are two things I love, they are office supplies and the start of a new school year. I've always been one who loves the back to school season.
As a kid I loved the possibility a new school year brought — new teacher, new classroom, new friends. Then as a former teacher myself, I loved that each new school year brought in fresh new students and a chance to "begin again" in terms of what I taught and how I taught it.
I'm a few years removed from the classroom but I still love back to school time mainly because the rows and rows of fresh, new, beautiful school supplies.
New pencils, new crayons, new notebooks… I love it all! I still find myself wondering through the section at the store 🙂
This past week I was thinking about all the young girls who would be returning to school in a few weeks and being a mother of a daughter myself, my heart started to feel a little burdened for them.
I remember when I was a teenage trying to be comfortable with yourself was a hard lesson to learn. Now a days I can only imagine how much more difficult and challenging that can be.
With smart phones that are constantly connected to the internet, peer pressure, fashion demands and so many other issues, our young girls can have a hard fight ahead of them.
For so many years we have prayed over them and with them to grow into confident young women who both love the Lord and the person that God has created them to be. Sadly though that message often goes against what our society promotes as beautiful and confident.
How can we continue to faithfully equip our daughters, nieces, granddaughters, neighbors and friends to fully embrace their unique and special self? How can we help them find the courage to truly identify who they are in Christ and not be swayed by peer pressure?
For one thing we can continue to pray for them and we can pray with them. We can encourage them and we can share our own personal struggles with our own identities and confidence.
There are also so many ways we can provide inspiration to them on a daily basis. One way to do that is to provide new school supplies that are both beautiful and feminine but also include one important message… that there is no one like them and they are loved.
Last week when I was in Mardel's purchasing a few items, when I was drawn in to the beautiful display of Live Original products designed my Sadie Robinson (of Duck Dynasty and my favorite… Dancing With the Stars contestant) for DaySpring. Three ring binders, pocket folders, journals, notebooks, cards, and my personal favorite, sticky notes, all in beautiful shades of pink, blue, cream and peach.
Durable and practical for everyday wear and tear of being pulled out of a back back or thrown in the backseat of a car, these school supplies help spread the message of faith, love, uniqueness and creativity.
I love how all the products in the Live Original line coordinate well together so you can easily mix and match to create an organizational system that will work for you.
I purchases a spiral bound notebook, three-ring binder, pocket dividers and a book of sticky notes — because who can have too many sticky notes, right?
Focusing on the spiral notebook and sticky notes, I believe this is the perfect accessory to help young women have a Prayer and Inspirational Notebook with them all the time. Since it's also three-holed punched, it can easily fit inside the large three-ring binder and still have plenty of room for tabbed subject dividers.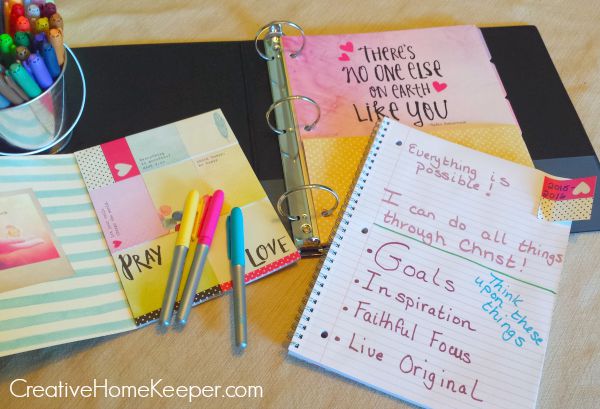 In their Prayer and Inspirational Notebook, they can include:
Favorite Scripture passages that are encouraging
Places to write out and memorize passage of Scripture so they can always have God's Word on their heart.
A gratitude list
A prayer list
Bible study notes
Inspirational quotes that encourage and uplift
Magazine clippings or photographs that inspire their creativity
Books to read and books that have impacted their hearts
Doodles or sketches
The possibilities are endless of how they can use their Prayer and Inspiration notebooks!
Since my own daughter is not old enough to be in school yet, I am excited to use the three-ring binder and dividers to give my own home management binder a facelift, as well as keep the Prayer and Inspiration Notebook in my Bible Book Basket to replace my Gratitude Journal that had recently run out of pages… such perfect timing!
Have you ever helped your own daughter create a Prayer and Inspirational Notebook?